Uncover and learn about complex HR innovation tools and strategies at Accelerate HR from Thailand's largest employers including Agoda, DKSH, Fonterra, FWD, Kasikornbank, Minor Food, Nissan Motor and more.
Happening in Bangkok on 26-27 November, early-bird tickets are still available.
2014 may have seen salary hikes of 10 to 20% for professionals in Singapore, but employees this year are anticipating low increments to their salary.
According to a recent study conducted by JobStreet.com, 58% of candidates, believe salary growth in 2015 will be equal and/or smaller than last year. Almost nine out of 10 (86%) of employers stated the same.
In addition, 75% of candidates stated they expect their bonus growth to be remain equal and/or decrease from last year, along with 89% of employers.
The report hinted such subdued expectations about salary levels were also partly responsible for a majority of employees in Singapore considering a job switch.
Eight out of 10 employees stated they are mulling over a shift in their roles over the course of the year. This was despite the fact that 82% of candidates and 73% of employers expressed uncertainty about the job market in 2015.
"While executives identified salary as the main reason for changing jobs, what was important to managers was looking for better job opportunities that gave them greater autonomy in decision-making," the report stated.
"Also, while executives actively search a broad spectrum of jobs offering better pay, managers tend to be more focused and passive, responding only to offers that are compelling."
As a result, bosses in Singapore stated they would be hiring to replace for staff attrition, rather than for business expansion. Professionals in the sales and marketing, human resources, and engineering sectors were found to be the most in demand by these employers.
ALSO READ:
67% of Singapore staff looking to change roles in 2015
Singapore's salary and job trends for 2015
"With regards to salary increments, it was interesting to note that candidates who anticipated bigger salary growth this year attributed the main reason to having fulfilled management's expectations in terms of their work.
"However, candidates who expected lesser salary growth did not attribute this to their inability to fulfill management's expectations of their performance but believed the main reason to be lower business profits."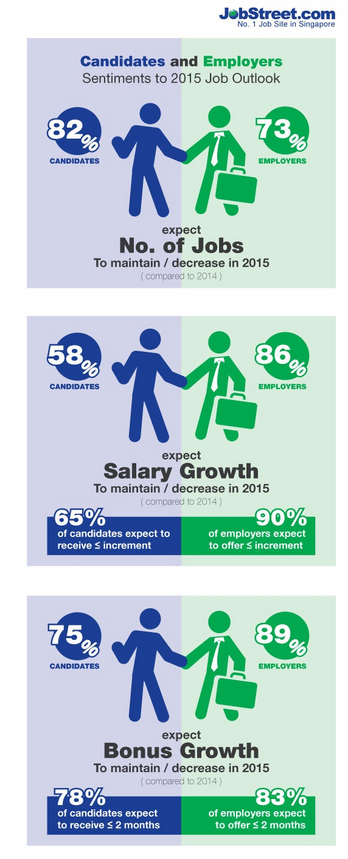 Image: Shutterstock
HR Vendors of the Year Awards is back again for its 5th year with a fascinating gala night to celebrate the best HR vendors in Hong Kong. Winning is both an affirmation of the exceptional quality of your work in the industry and among peers. Enter Awards now
Contact us now for more details.