Contrary to popular belief, getting a high salary is not the top priority for job-seekers in their hunt for a new role – at least not so for Millennials.
Instead, creating an impact on the business is the top motivation for 23% of the 800 respondents polled in a recent study by Futurestep.
This was followed by "a clear path for advancement" (20%) and "development and ongoing feedback" (16%). Income only came in at fourth place with 13%.
When asked which factors would influence Millennials to choose one job over the other, 38% of respondents chose "visibility and buy-in into the mission or vision of the organisation."
Almost three out of 10 (28%) also chose a "clear path for advancement", while 18% stated they would consider the title and pay of the company in question.
"This research demonstrates the changing priorities of today's young workforce," said Trish Healy, Futurestep vice president of RPO operations in North America.
"Millennials are now placing greater value on understanding what a company stands for and how, as employees, they can play a role in growing the organisation into a better, stronger brand."
The survey also delved into the best ways of recruiting Millennials. Almost half (42%) of respondents are turning to social media and mobile platforms, followed by networking/word-of-mouth at 28%.
"Additional findings from the survey revealed that once employees are hired there are key benefits to in-depth onboarding practices," the report stated.
"While 81% of respondents said they currently develop millennial employees differently than other employees, more than half of respondents (54%) said onboarding programmes help improve performance and accelerate time to full productivity."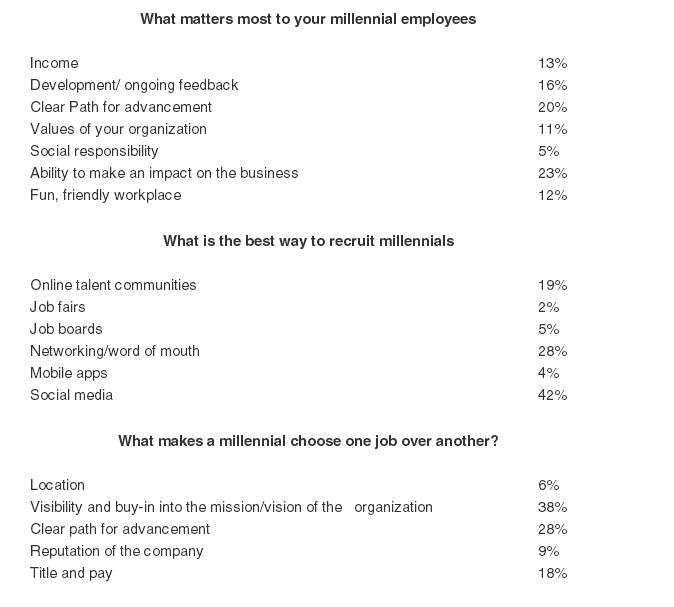 Image: Shutterstock