Talent Management Asia: Asia's leading HR strategy conference returns for its seventh year.
Unmissable opportunity to attend the go-to conference for HR leaders - debate key talent management challenges and share insights on future people strategy. Register now »
Powering the iCloud with 100% renewable energy, a cause embraced by CEO Tim Cook, has ensured Apple stays number one among the tech sector majors in building a green and clean Internet.
All three of Apple's data center expansions announced in the past year will be powered with renewable energy, setting a new bar for the industry, noted Greenpeace's new report.
Evaluating the energy demand of the Internet, Greenpeace identified Apple, Facebook and Google as the top three cleanest companies in the industry.
Second-ranked Facebook has been credit with huge strides since 2012 to become one of the green Internet leaders, driven by transparency and significant wind energy investment in Iowa.
It is also continuing to find ways to scale renewable energy to power its data centers in North Carolina and Oregon, thus "setting a clear bar for other major social media networks and Internet companies to follow," stated the report.
While third-ranked Google has made progress towards becoming 100% renewably powered, it has lost out access to renewable energy in markets restricted by monopoly electric utilities, such as parts of the US (North and South Carolina, Georgia), Singapore and Taiwan.
ALSO READ: Empowered staff demand greener workplaces
Lower down the order, the ranking features Yahoo, Equinix, Salesforce and Rackspace respectively. IBM, Microsoft and Amazon feature lower down the order, in the bottom three of the list of ten.
While Amazon has adopted a 100% renewable energy goal, the report blames a lack of basic transparency in being unable to guide its investment decisions toward renewable energy and away
from coal.
Microsoft has also slipped in the race to build a green internet, as the report finds a "continued lack of a meaningful strategy to guide its rapidly growing fleet of data centers with renewable energy."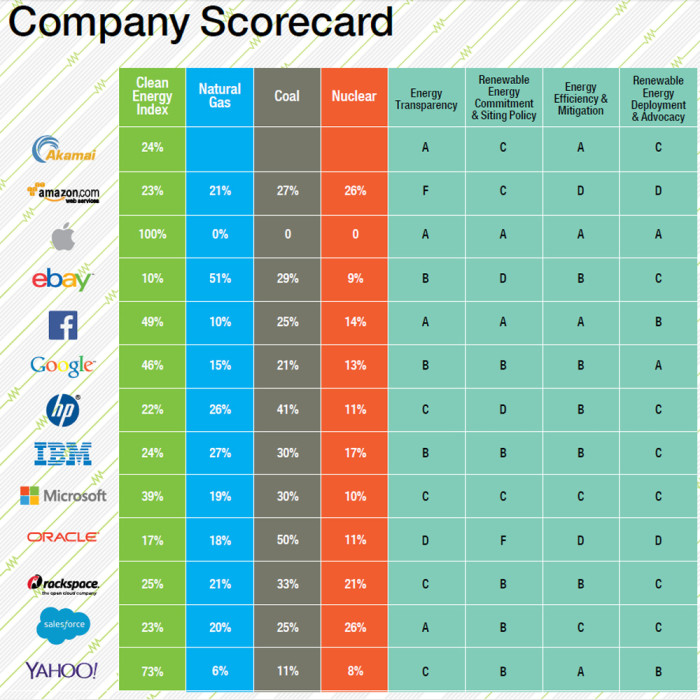 Lead image: Shutterstock
Graphic: 2015 Click Clean Report 

"Informative, Interactive, Inspiring. The conference brings new ideas and insights about current issues in talent and HR management"
Join the seventh annual Talent Management Asia, Asia's leading HR strategy conference. Register now for super early-bird savings!