Female millennials in Singapore are the most financially independent in the world.
Surveying 8,756 female millennials (women born between 1980 – 1995), a new report by PricewaterhouseCoopers (PwC) found 69% of young women in Singapore bring in equal or more salaries than their partner or spouses. This percentage was higher than the global average of 66%.
Female millennials in the country also prioritise finance-based incentives when looking for jobs.
Locally, the respondents ranked  competitive wages (58%) and other financial incentives (52%) as the most attractive employer trait. This was a contrast from their global counterparts who ranked opportunities for career progression as the most attractive employer trait (53%)
Globally, the female millennial was also found to be confident about reaching the senior-most positions in her current company, particularly those respondents who were just starting their careers (49%). However in Singapore, only 31% of female millennials surveyed were found to be confident of this.
ALSO READ:
Here's proof Millennials are 'misunderstood'
Singaporean female millennials were also less likely to leave their jobs to start a family compared to their global peers (11% versus 19%).
"Our research shows that when it comes to the female millennial, we really are talking about a new era of female talent," Karen Loon, diversity leader of PwC Singapore, said.
"Female millennials are more highly educated and are entering the workforce in larger numbers than any of their previous generations. But, this is not the only thing that has changed. They also enter the workforce with a different career mindset."
On top of that, more female millennials in Singapore were reported to be part of a dual-career couple (91% in Singapore versus 86% globally).
The report also delved into the work environments of companies worldwide.
Interestingly, global employers were thought of to be more male-biased  with regards to internal promotions than employers in Singapore (50% versus 39%).
Singaporean companies were also ahead when it comes to gender equality, with less bias in relation to employee attraction (12% versus 25%), employee development (20% versus 30%), internal promotions (31% versus 43%) and employee retention (15% versus 31%).
On the topic of gender equality and diversity, almost all (92%) Singaporean female millennials said they seek out employers with strong diversity, equality and inclusion records, compared to 86% of their global counterparts.
Here are some infographics on the key findings of the survey: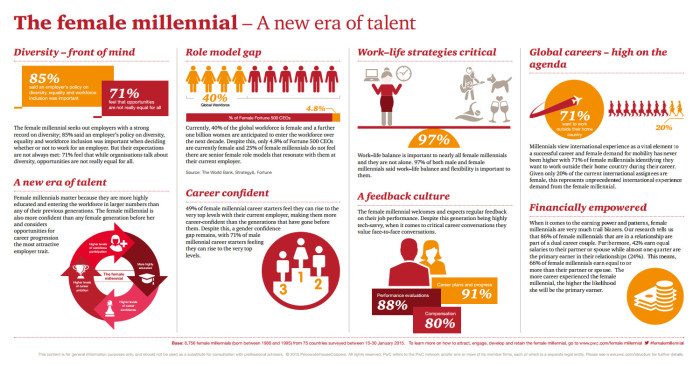 Image: Shutterstock