Asia's most renowned regional HR Excellence Awards is back in October in Singapore, Malaysia and Indonesia to sieve out HR's finest gems. Are you a diamond in the rough? View the categories and find out more.
The Ministry of Manpower (MOM) is investigating reports of more discriminatory job ads against Singaporeans.
In a statement posted on Facebook, MOM said it would be looking into a number of reports from the public, and have asked the employers to take down any discriminatory job ads immediately.
The Ministry also warned employers about the wording of job ads, regardless of whether they are posted by themselves or recruitment agencies.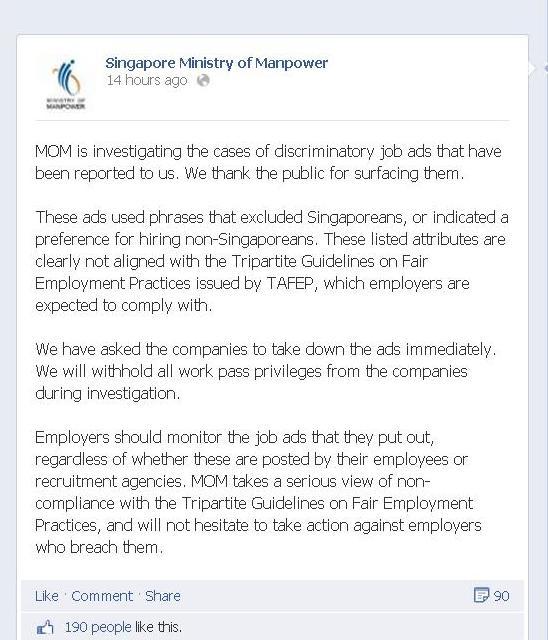 This latest warning comes nearly a month after MOM previously banned 10 companies in Singapore from hiring foreigners temporarily, after they were found to be discriminatory in their job descriptions.
The offending companies were instructed to post apologies on their websites for 30 days.
Click here to see which companies were affected, and to read some of the apologies.

How do you know if your #learning is relevant for the #future?
Find out at the region's largest conference for HR and L&D practitioners, Learning & Development Asia, happening in September.
Register for early-bird savings now.