Following studies which claimed a majority of professionals in Malaysia were dissatisfied with hiring processes in the country, a new report shows their counterparts in Hong Kong aren't too happy either.
According to the MRIC Group's "2015 MRIC Talent Report", 79% of Hong Kongers face various sources of frustration while applying for jobs. The percentage was slightly lower than the regional average of 80%.
Polling respondents from Greater China and Singapore, the report found frustration levels were highest in Taiwan, with 87% of candidates experiencing problems during applying for jobs. This was followed by candidates in Singapore (85%) and China (79%).
The main sources of discontent in Hong Kong included the lack of information and long waiting times. These were encountered by candidates whether the candidate applied via a job agency or to the company itself.
"It is MRIC experience that a recruitment process should not last more than 8 weeks for junior professionals and 12 weeks for senior ones otherwise the candidate may be lost," commented MRIC CEO Christine Raynaud.
"Large firms necessarily involve multiple stakeholders yet they should aim to keep the process as condensed as possible."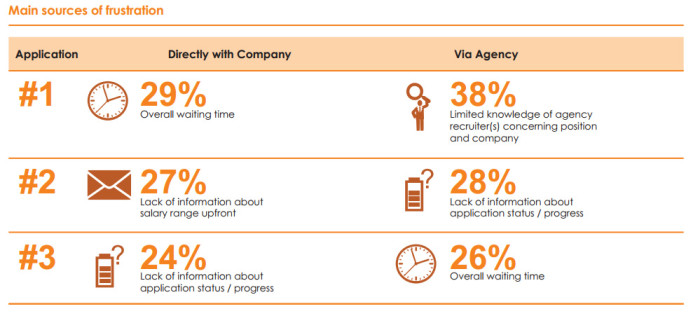 The report stressed on the need for companies to make the hiring process better for candidates, especially since only 39% of respondents in Hong Kong stated they were  "very likely" or "somewhat likely" to apply to the company again. This was followed by 38% in Singapore, 37% in China and 32% in Taiwan.
ALSO READ:
60% of Malaysian job seekers unhappy with hiring experience
Job hopping expected to increase again in 2015
5 technology roadblocks that are killing candidate experience
Interestingly, across all countries, candidates' level of satisfaction drops in the final stage of recruitment as compared to the initial stages.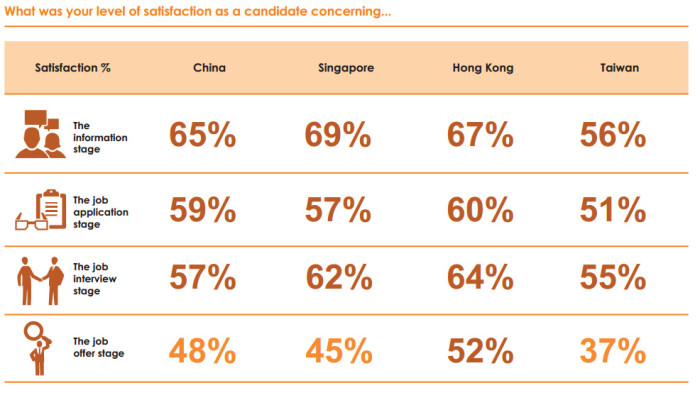 "Companies and external recruiters alike could better leverage online technology to improve the overall candidate experience; beyond the posting of job openings, they could better manage their process, build employer brand and personalise their relationships" said MRIC managing director for China, Angie Eagan.
The top three online channels used by candidates in Hong Kong were job boards (63%), social media (51%) and recruitment agency websites (47%).
However, when looking for company information, the  majority of candidates in Hong Kong were likely to turn to the corporate websites.
Image: Shutterstock

"The Asia Recruitment Award is the oscars of the recruitment industry. A display of the best of the best!"
Start your entries preparation early.
Open to both in-house recruitment & talent acquisition teams and recruitment solution providers.