More options in levels of retirement premiums as well as flexibility in withdrawals were the two key recommendations put forth by the Advisory Panel on Singapore's Central Provident Fund (CPF) system.
The Panel, set up in September 2014, has submitted its first set of recommendations to the government, with more to come in mid-2015.
In response, Minister for Manpower Tan Chuan-Jin said the government will detail the changes it plans to make at the Budget and Committee of Supply parliamentary debates later this month.
Options in retirement sums
The first big recommendation was on providing clearer choices in the retirement sums for citizens to set aside. This was based on finding the desired level of monthly payouts of citizens, as "this is a more intuitive way of planning for retirement."
The Panel assessed that CPF members turning 55 in 2016, should set aside enough CPF savings for a basic payout of $650 to $700 per month, for when they retire in 10 years' time.
To receive this payout, they would need to set aside a Basic Retirement Sum (BRS) of $80,500 as premium in 2016. "Of active CPF members turning 55 in 2020, it is expected that about 7 in 10 will have enough CPF savings to meet the Basic Retirement Sum," said the report.
This payout would be eligible for those owning a property, and they may be able to withdraw their savings above the BRS subject to a pledge on the value of their property.
For members who do not own homes, a Full Retirement Sum (FRS) of $161,000 should be set aside in 2016, an amount worth two times the BRS, the Panel suggested.
Further, CPF members who want higher CPF LIFE payouts may be allowed to voluntarily top up their premiums with savings or cash up to an Enhanced Retirement Sum (ERS), set at three times the BRS, or $241,500 in 2016.
ALSO READ: Employees fear they will run out of money in retirement
The Panel also recommended that members be given the flexibility to defer their payout start age, up to age 70, in order to get permanently higher monthly payouts of 6-7% for every year deferred.
In addition, it emphasised that the Basic Payout for successive cohorts should increase, for it to remain adequate after taking into account inflation and increases in the standard of living.
The BRS will have to be adjusted accordingly, which implies an increase of 3% for each successive cohort of members turning 55 from 2017 to 2020.
Flexibility in withdrawals and transfers
For members with shorter-term cash needs, the Panel suggested an option to withdraw up to 20% of their savings at the Payout Eligibility Age, which is currently 64 and will rise to 65 in 2018. However, it cautioned that members who exercise this option will receive permanently decreased payouts as a result.
The Panel also suggested providing incentives to CPF members for topping up the accounts of lower-balance family members, especially in cases where housewives are reliant on their husbands' payouts.
Finally, it also proposed ways to increase awareness about all of these additional CPF options, through "specific and timely information, and financial counselling."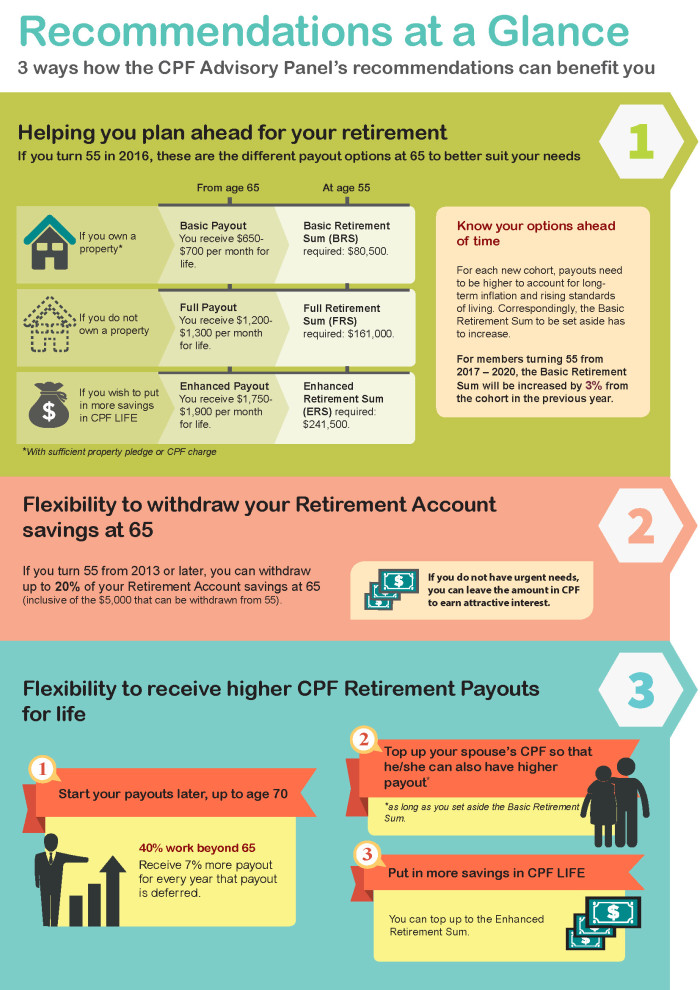 Image: Shutterstock