Malaysia's fresh graduates have some catching up to do as 70% of employers are disappointed about their quality levels – calling their standards just "average".
About a quarter (24%) said the standards of graduates were "bad", while just 6% said they were "good", in a new JobStreet.com survey of 472 managers in the nation.
Many employers attributed the poor ratings not to academic qualifications, but rather attitudes and communication skills shown during interviews or at work.
But the number one reason for the disappointment? Unrealistic salary and benefit expectations – as listed by more than two-thirds of employers (68%).
While a majority of fresh graduates expect a salary of RM3,500, going up as high as RM6,500, employers can only afford to shell out in the range of RM2,100 to RM2,500.
The second concern for employers is in the levels of English proficiency, with 64% of bosses saying poor command of the language inhibits fresh graduates' employment.
The third factor contributing to the issue was graduates being too choosy about the job or company, as pointed out by 60% of employers.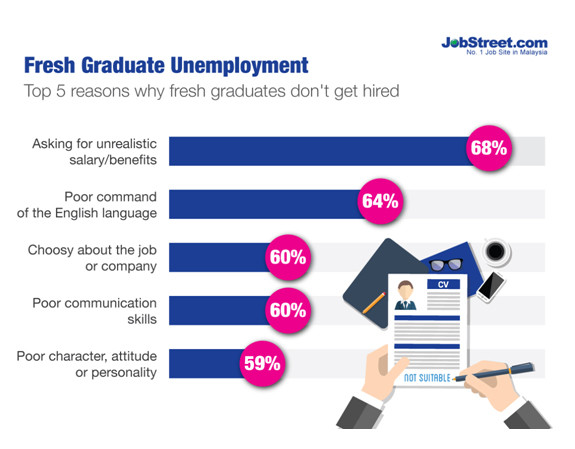 So what can turn the tide for these graduates? More than one-third of employers (39%) said those who've held leadership positions at the university level will have better chances.
Another quarter opted for high academic scores, while one-fifth said they would look for those involved in extracurricular activities.
Students with volunteering experience were also popular among 16% of employers.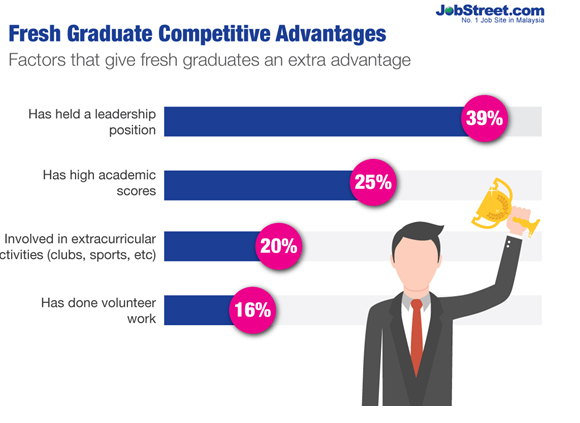 ALSO READ: Malaysia is the 10th most generous country in the world
Top tips for graduates:
Research before you apply – find out company expectations and salary levels much before going for the interview.
Apply only if you're serious – look at things like the work location and job description before showing interest.
Diversify your experience – apart from academic scores, volunteer for community activities.
Lead image: Shutterstock