Research from the World Health Organisation (WHO) has shown that workplaces which promote mental health and support people with mental disorders will often see a reduction in absenteeism, and an increase in productivity which can lead to economic gains. While a negative working environment may lead to physical and mental health problems, harmful use of substances or alcohol, absenteeism and lost productivity.
Interestingly, beneath all the allusions and allegories, Robert Eggers' latest critically acclaimed black and white film, The Lighthouse, is a cautionary tale of mental health in the workplace. A lighthouse keeper and his new apprentice, namely Thomas Wake and Ephraim Winslow, are assigned to a desolate island for four weeks, culminating with them trying to kill each other.
The Lighthouse (2019)
From a HR perspective, it's the overwork, power struggle, ignoring the signs of burnout, and a negative response to a confession, that takes both characters down the road to destruction.
Checking off every item on the list of bullying behaviours, Wake, played by Willem Dafoe, is the epitome of a toxic boss: Apart from commanding his subordinate to do exactly what he asks for without explanation or compromise, Wake ignores all the mental health red flags, thinking that not paying attention to them will make them go away.
This includes refusing to let Winslow get close to the lighthouse because he doesn't care about his career growth; condemning and blaming Winslow for confessing personal secrets; and even though he is the boss, constantly initiating heavy drinking and ordering Winslow to do it as well. Wake marks all the infractions in his log, as well as recommending severance without pay for Winslow.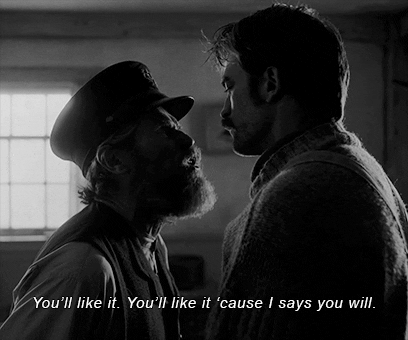 Ignoring feedback and disregarding an employee's future, micromanaging, refusing to communicate and throwing tantrums are the top signs of a toxic boss, according to Business Insider. And not only are toxic bosses soul- crushing, they are usually one of the top causes of unhappiness in the workplace – as The Lighthouse so aptly demonstrates.