HR Vendors of the Year Awards is back again for its 5th year with a fascinating gala night to celebrate the best HR vendors in Hong Kong. Winning is both an affirmation of the exceptional quality of your work in the industry and among peers. Enter Awards now
Contact us now for more details.
Johnson & Johnson Asia Pacific today unveiled its new Asia Pacific headquarters, bringing together 1,000 employees from its pharmaceuticals, medical devices, and consumer businesses in a single location to spearhead new ideas and frameworks for healthcare of the future.
At the launch attended by Human Resources, the global healthcare company revealed the regional HQ will lead collaborations and partnerships to co-create new global healthcare models which are at the forefront of innovation. This reaffirms Johnson & Johnson's commitment to advancing healthcare innovation in Singapore and the Asia Pacific region.
Ai Hua Ong, company group chair, Janssen, the pharmaceutical company of Johnson & Johnson, said: "The shifts in population demographics, globalisation and technology today require companies to move health forward faster than ever before.
"We believe that our new regional hub in Singapore coupled with our global scientific strength and strategic external collaborations will create enduring and impactful solutions that reimagine the future of health."
A new Leadership Lab, Design Lab, and Human Performance Institute
Singapore has also been selected as the location for Johnson & Johnson's first global development center known as the Leadership Lab. The Leadership Lab aims to conduct over 200 leadership development classes and train 4,000 Asian leaders annually. As a think-tank, the Leadership Lab will create links with universities, research groups, governments, healthcare organisations and other partners to co-create new healthcare models and solutions to prototype capabilities required to author the next chapter of healthcare innovation in Asia.
Apart from the Leadership Lab, the new 15,800 sq. meter facility will also boast a Design Lab and Human Performance Institute.
A first outside of the United States, the Design Lab in Singapore will bring Johnson & Johnson closer to its consumers and patients in the APAC region. The Design Lab will work with educational institutions, external agencies, and other Design partners as it establishes and grows its team for Johnson & Johnson.
Ernesto Quinteros, chief design officer, Johnson & Johnson, said: "Design thinking is at the center of all our innovation and brand experience efforts. By applying its framework, the Lab aims to fuel and inspire ideas that not only tackle some of the toughest healthcare challenges, but also connect with patients, customers, consumers and employees."
At the same time, the Human Performance Institute (HPI), a first of its kind in Asia Pacific, will offer its proprietary leadership development initiatives to participants outside of Johnson & Johnson, with the goal to train 150,000 people in Singapore by 2020.
Responding to Human Resources' queries on hiring plans, Ong said:
We will be looking to expand our team with the launch of our new capabilities that will help to create enduring, impactful health solutions for the future.
"This includes building a design team for our Design Lab and training up more trainers for our Human Performance Institute to support our advancement in human health in Asia Pacific," she elaborated
Also present at the launch was Thien Kwee Eng, assistant managing director, Singapore Economic Development Board and Stephanie Syptak-Ramnath, Charge d'Affaires, U.S. Embassy.
Thien Kwee Eng, assistant managing director, Singapore Economic Development Board, said: "We are delighted that Johnson & Johnson has chosen Singapore to launch its new and expanded Asia Pacific Headquarters, a testament to Singapore's attractiveness as a trusted business and innovation hub.
"With new activities such as its Design and Leadership Labs, Johnson & Johnson will play a key role in training and enhancing our local ecosystem and workforce with strong design-thinking skills and leadership capabilities, to innovate new businesses and solutions and address the evolving healthcare needs of consumers in Asia, from Singapore."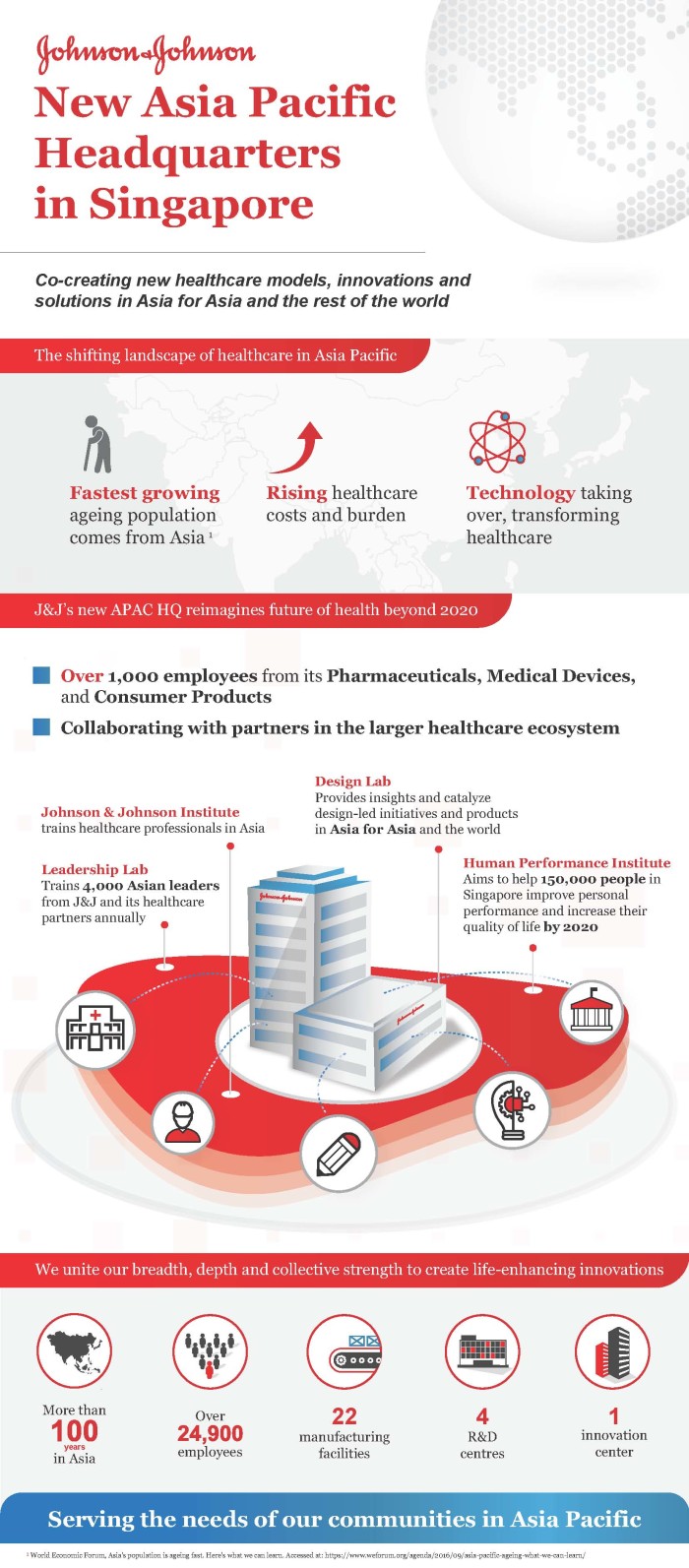 Photo and infographic / Johnson & Johnson
Lead photo caption: Johnson & Johnson's new APAC HQ launches new capabilities, including Johnson & Johnson's first Asia Design Lab, first global Leadership Lab, and first Asia Human Performance Institute. Sixth from left: Ong Ai Hua, company group chair – Janssen, Pharmaceutical company of J&J, Thien Kwee Eng, assistant managing director, Singapore Economic Development Board and Stephanie Syptak-Ramnath, Charge d'Affaires, U.S. Embassy.

Mark your calendars as the crowd's favourite candidate and employee experience conference, Talent Experience Forum is back!
Happening only in KL, Malaysia on 5 November. Register your seat early because you will be hearing top insights from C-suite and senior HR leaders from Dell, Digi, GoCar, IPG Mediabrands, Nestle, Tesco, Unilever and more.