– With inputs from Naomi Cranswick
Certified HR professionals in Singapore now have a new base to look forward to – with the official opening of the Institute for Human Resource Professionals' (IHRP) new office on 6 April.
The ceremony to inaugurate the new office was attended by Human Resources, held at the Lifelong Learning Institute in Eunos. Also marking the occasion was the conferment of IHRP certifications to 300 HR practitioners for this year.
Singapore's second minister for manpower, Josephine Teo, congratulated the newly-minted HR professionals, adding: "This increasing pool of certified HR practitioners is already making a difference to their workplaces, equipped with their new knowledge, and a better understanding of effective HR practices – they are applying their competencies and skills to support the business."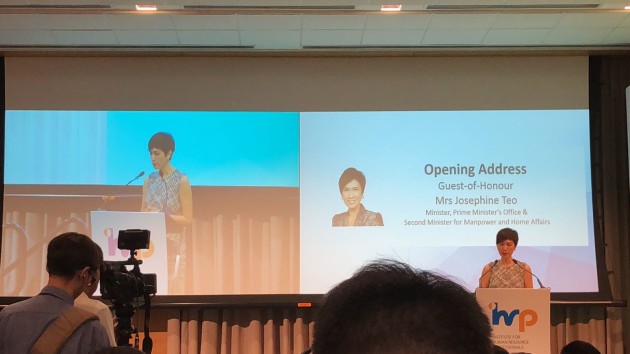 The professionals were certified across three categories:
Certified HR Professional (CP) – 234 professionals in the current batch
Certified Senior HR Professional (SP) – 88 professionals in the current batch
Certified Master HR Professional (MP) – 10 professionals in the current batch
New batch of Certified HR Professionals (CPs) – non-exhaustive list:
Ang Gin Yin, Abbott Laboratories
Aver Lim, Accenture
Pranoti Shende, Apar Technologies
Lim Swee Leng, Bank of Singapore
Lee Sin Ying, Becton Dickinson Medical Singapore
Agnes Cassandra Lee, DBS Bank
Cindy Low, Defence Science and Technology Agency
New batch of Certified Senior HR Professionals (SPs) – non-exhaustive list:
Varuna Pandey, Axis Bank, Singapore branch
Wong Tsu Chi Claire, DHL Global Forwarding
Jeethu Syriac, Farrer Park Hospital
Jessica Lee, Harley-Davidson Asia Pacific
Tham Chien Ping, Lazada Group
Appandairajan Krishnakumar, Mastercard Asia Pacific
Rachel Foo Ai Phang, Merck
Lim Zhi Rong, Unilever
New batch of Certified Master HR Professionals (MPs) – non-exhaustive list:
Tan Kwang Cheak, Agency for Integrated Care (Singapore)
Yeo Meng Hin, DHL Global Forwarding Management (Asia Pacific)
Robert Chong, Keppel Corporation
Jason Ho, OCBC Bank
Derek Tan, Singapore Tourism Board
Dr Jaclyn Lee, Singapore University of Technology and Design
Aileen Tan, Singtel
All photos / Journalist's own