Back in Hong Kong for its fourth year on September 5 at the Hotel ICON, Learning and Development Asia is bigger and better than ever before and earned its reputation as the most influential L&D strategy event in Asia.
Book your tickets now!
Contact us now for an amazing group discount
Google's Larry Page is the highest-rated CEO this year, according to the third annual Glassdoor 2015 Employees' Choice Awards, getting an approval rating of 97% by his employees based in the US.
Nike's Mark Parker (97% approval), and H E B's Charles Butt (96% approval) took the next two spots respectively, among large companies (1,000 or more employees).
With a 95% approval, Mark Zuckerberg, the CEO of Facebook, emerged fourth in the list.
The winners were determined based on employee feedback shared on Glassdoor, on whether employees approve or disapprove of how their CEO is leading the company, along with insight into their job, work environment and company.
ALSO READ: The top 10 highest paid CEOs in 2014
Four Indian-origin personalities also featured in the top 50 rankings – Cognizant CEO Frank D'Souza stood at number 33, while Dr. Vishal Sikka, CEO of Infosys, ranked 35 in the list.
Dr. Sikka was followed by Stryker's Kevin Lobo (43), and CEO of Adobe, Shantanu Narayen (47).
Here are the top 5 highly rated CEOs this year: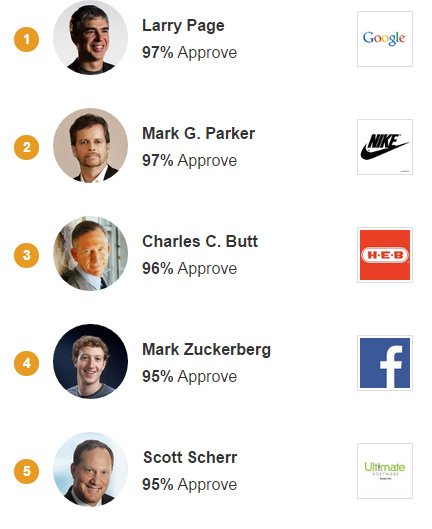 Glassdoor added that one major point caught its team "by surprise when reviewing the winners—the lack of women."
Several women, however, nearly made the cut. The top five women CEOs were all "just a few percentage points shy from appearing on this annual list."
With an 86% approval, Mary Barra was the highest rated woman CEO this year, albeit not featured in the top 50.
READ MORE: Do women make better CEOs than men?
Having been named CEO of General Motors in January last year, Barra garnered an 86% approval rating, while the company was rated 3.5 out of 5 stars overall on Glassdoor.
Pamela M. (Pam) Nicholson, CEO of Enterprise Rent-A-Car, was second on the list, with an approval of 84%. She tied with Kay Krill, CEO of Ann Taylor (84%).
Marillyn Hewson, CEO of Lockheed Martin and Sharen Turney, CEO of Victoria's Secret Stores came next in the list, both with an approval of 83% approval.
 Image: Shutterstock

Less than a month to Learning & Development Asia. Speakers from Axiata, BHP Billiton Shared Services, Fave, HRDF, Samsung confirmed to speak with more than 120 attendees.
The region's largest conference for HR and L&D practitioners - you don't want to miss it.
Last few seats available, you don't want to miss it. Register now.