While office romance might be dying, love is still very much alive. According to ECA International, Singapore ranks second on being one of the most expensive Asian cities for romance. The report showed that a romantic evening date consisting of a dinner for two followed by cinema, drinks and a return taxi ride in Singapore could set back couples a good USD$190. Meanwhile, Hong Kong has proven to be the most expensive Asian city for romance, with a date costing $195.
In comparison, Geneva, Switzerland tops the list, where a date could amount to $295; while the least expensive city to have a date would be in Tashkent, Uzbekistan ($69) – which is close to five times less than Geneva.
On that note, here are the top 10 most expensive cities for a date:
Geneva – $295
Oslo – $262
London – $205
Paris – $198
Florence – $171
Lisbon – $136
Prague – $116
New York – $225
Montreal – $176
Rio de Janeiro – $146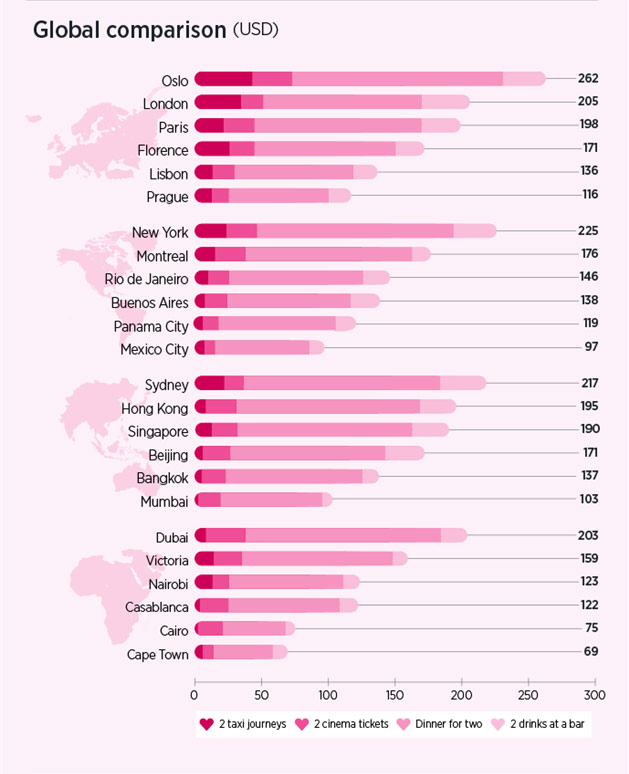 Lead Photo /  ECA International
Infographic /  ECA International
HR Vendors of the Year Awards is back again for its 5th year with a fascinating gala night to celebrate the best HR vendors in Hong Kong. Winning is both an affirmation of the exceptional quality of your work in the industry and among peers. Enter Awards now
Contact us now for more details.