Mark your calendars as the crowd's favourite candidate and employee experience conference, Talent Experience Forum is back!
Happening only in KL, Malaysia on 5 November. Register your seat because you will be hearing top insights from C-suite and senior HR leaders from Dell, Digi, GoCar, IPG Mediabrands, Nestle, Tesco, Unilever and more.
A lack of flexible working arrangements and a generally unsupportive environment for working mothers is driving many women to search for new employment in Malaysia, according to Monster Malaysia.
Surveying over 2,600 respondents in Malaysia, Singapore, and the Philippines, the biggest reason for new mothers quitting their jobs is a lack of flexibility (75%), followed by concerns about poor childcare (60%). More than half (55%) also cited an unsupportive boss and work environment.
The lack of flexible working options is a huge hindrance in Singapore, cited by 82% of respondents, while in the Philippines, close to half (49%) said benefits for working mums are not up to their expectations.
In line with Mother's Day, Monster questioned working mums on their biggest worries when returning to work after having a child:
More than half of respondents (55%) said they struggle with the emotional process of leaving a newborn at home.
Close to half (49%) said they only return to their jobs for financial reasons.
Another 47% worry about getting the right childcare in place to allow them to feel comfortable with returning to the office.
"The process of having a child and being with that child 24/7, and then being expected to leave them at home in the care of someone else to return to work is a giant emotional leap for parents all over the world. The more employers can do to support women during this time, the more likely they are to retain key female talent," Abhijeet Mukherjee, CEO, Monster.com – APAC and Gulf, pointed out.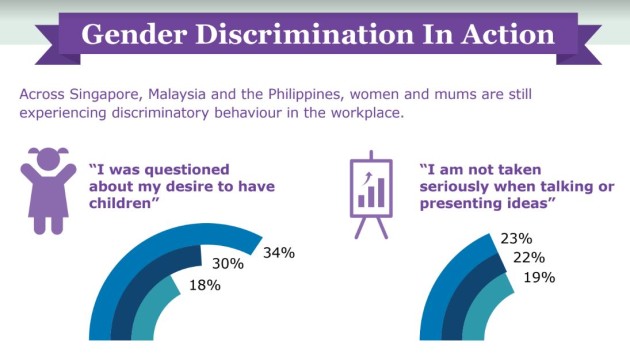 When asked about their biggest challenges, more than half (53%) of women said they struggle to balance their duties in the office with the need to keep things running at home. Further, more than one-third (38%) feel they are not awarded the same career opportunities as men, and a similar 32% believe the way they are perceived by their colleagues and boss affects their upward mobility.
Respondents also lamented the lack of facilities and policies, where 28% said their workplace offers some sort of flexibility or adjusted workloads for working mothers. A much fewer 12% of workplaces have a dedicated lactation room for pumping breast milk in private during the workday, and only 10% said they do have the option of a child day-care at work.
To overcome some of these hurdles, close to half (46%) said employers should instil some sort of flexible arrangements that are in line with mothers' needs. One in five (20%) suggested employers could consider a transition period when returning to work.
"Women in Malaysia clearly want to work, but they are not provided with a supportive environment or business infrastructure that allows them to both care for their families and contribute to the workplace. This is no doubt a key reason why 94% of women surveyed said they are currently searching for a new job," Mukherjee commented.
As part of the research, Monster.com also launched a video featuring four women at various phases of motherhood who share their struggles and provide advice for all women facing a similar situation:
For the 5th consecutive year, HR Distinction awards will again honour the very best in the HR industry. Winning is both an affirmation of the exceptional quality of your work in the industry and among peers. Book your gala dinner table now
Contact us now for more details.