Uncover and learn about complex HR innovation tools and strategies at Accelerate HR from Thailand's largest employers including Agoda, DKSH, Fonterra, FWD, Kasikornbank, Minor Food, Nissan Motor and more.
Happening in Bangkok on 26-27 November, group discounts when you bring your team.
If you haven't already marked out Singapore's public holidays for 2019, here's the Ministry of Manpower's handy link to adding them all to your calendar, or simply bookmark the full list here.
To recap, these are the holidays available:
This presents four long weekends for Singapore in 2019 – Good Friday, Vesak Day, Hari Raya Haji, and Deepavali, the last three of which fall on Sunday, typically the rest day for office workers, thus the Monday off in lieu.
But if you'd like to get your hands on some even longer holidays, here are our ideas for planning your leave schedule effectively:
4 February – Taking leave on this Monday is a great idea not just because, well it's a Monday, but also you'll get five days in total off, inclusive of Lunar New Year.
29-30 April or 2-3 May – If you've got two days in hand, then either of those Monday-Tuesday or Thursday-Friday combinations would win you another five days, combined with Labour Day.
3-4 June – The eve of Hari Raya being a relatively less-busy period, you could take the Monday-Tuesday off, alongwith the Eid holiday on Wednesday, 5 June.
26-27 December – The Thursday and Friday post Christmas would bag you a five-day long weekend, before heading into the New Year week (except you'd have to go back into the office for a day on 30 December, Monday).
We hope the scheduler helps – happy planning!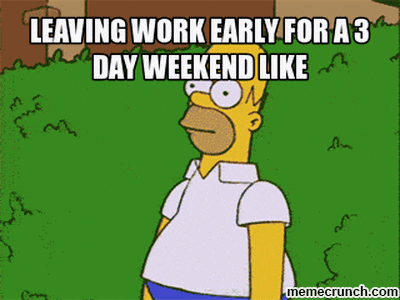 Lead image / 123RF
Graphic / Ministry of Manpower
GIF / GIPHY
For the 5th consecutive year, HR Distinction awards will again honour the very best in the HR industry. Winning is both an affirmation of the exceptional quality of your work in the industry and among peers. Book your gala dinner table now
Contact us now for more details.