From novelty gifts to add to their collection, to a morning out with a walk and a picnic, we've got you covered with some creative ideas to show your boss your appreciation this Boss's Day (16 October).
- With inputs from Aditi Sharma Kalra, Arina Sofiah, Lester Tan, and Priya Sunil.
It's not commonly commemorated in Asia, but Boss's Day is coming up on 16 October (Saturday) and if you've been following Human Resources Online for a while now, you would know we're a team who loves any reason for a celebration - especially one that celebrates leadership.
So today, we are celebrating all the bosses out there — who have been doing an exceptional job taking care of the workforce's evolving needs, particularly in one of the most challenging periods our world has seen.
While celebrations this year won't be the same — no social gatherings at the workplace, sharing baked goods together feels a little different this time — here are some ideas you can still consider to make the most of the day.
And to every single boss out there, thank you, from the bottom of our hearts, for stepping up to the challenge and never faltering, because you knew you had a team or the entire workforce depending on you. You truly are a superhero.
---
#1 Get a novelty. Not just any, but the novelty
Assume your boss likes Garfield or Lego. We can add a novelty to their collection, especially one that they have been eyeing for but haven't had the time to shop for.
It can be a keychain that they can display as a desk deco, a cup, or even a mousepad — something that can just brighten up their mood when he/she is burning the midnight oil for you.
This way, we can show our gratitude for them in a way that expresses effort, meticulousness, and genuineness—which are more often than not how they treat you.
#2 Virtual office "party"
A good ol' party. While social distancing rules mean in-person parties are harder to host now, who says we can't bring the fun virtually?
Towards the end of a team call (on whichever platform used), everyone could stay back and spend a little extra time expressing their appreciation for their boss.
For instance, by encouraging everyone to prepare some nice words. Some games would be a great addition too (e.g. guess your boss's favourite way to unwind). Especially in a time where you are not able to see each other face-to-face as much, this extra effort to connect with each other could really go a long way.
#3 A little thoughtful gift to say "thank you"
Depending on the current COVID restrictions where you're living, dining out one-to-one or as a group might not be possible, and notably, the occasion falls on a weekend (after all, we disturb our bosses enough during the weekdays, aka "Hi, can I just quickly check something with you?" is our personal go-to =D). So on Boss's Day this year, you could pamper your favourite leader with a subtle yet thoughtful little gift delivery - think, breakfast smoothies, a bottle of wine, or some fresh fruits - nothing over the top, just something to let them know you're thinking of them.
And just as the delivery rider approaches their home, send them your thank-you message.
#4 A morning out in the beautiful greenery and sunshine
This is one of our personal favourites! Invite your boss out for a lovely morning jog or brisk walk together in the park or botanic gardens, especially if they are a morning person.
This is a pocket-friendly and indoors-free way to enjoy some special time bonding together and starting the weekend fresh and active on Saturday morning.
Wrap up the walk with breakfast at your friendly neighbourhood McDonald's, or pack some croissants and coffee/tea to go and enjoy some chats on the picnic mat to wrap up the sweet surprise.
#5 Remind them to de-stress, with a mini care pack
We can't deny how hard it is to detach from work even after our official working hours, given the blurred lines in today's remote/even hybrid work arrangements. So help your boss out where you can — everyone in the team can pitch in and put together a mini care pack, comprising little motivations and reminders to shut their laptops, rest, relax, and de-stress.
These can be items such as mask packs, candles, teabags, and just for a cheeky addition - a little kitchen timer they can use to time and remind themselves when to stop work for the day.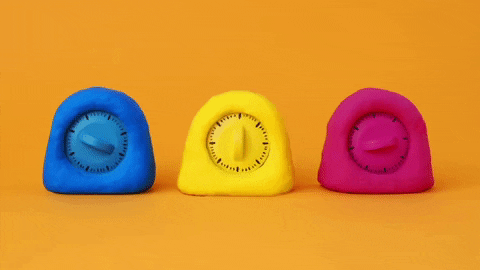 #6 We can't forget the OG way of showing appreciation - the thank-you card
Honestly, who doesn't love a thank-you note that expresses how much someone sincerely appreciates them?
Even for the most serious bosses of the lot, simple words of recognition can indeed put a smile on their face.
While it might not be as feasible today as it used to be to hand a card in-person, there are many platforms online that allow you to create beautiful, personalised cards for the entire team to write their messages down. And if you plan to through a virtual team party, then that's the perfect time to send this e-card to your boss to watch their reaction on screen.
To take it a little further - how about adding in a gift card to their favourite place?
Human Resources Online.Net by Marielle Ursua
---
Image / Unsplash
GIFs / GIPHY
Video / Canva
Follow us on Telegram and on Instagram @humanresourcesonline for all the latest HR and manpower news from around the region!
Follow us on Telegram and on Instagram @humanresourcesonline for all the latest HR and manpower news from around the region!