Microsoft celebrated its 25th anniversary in Hong Kong with a newly renovated office for its 400 local employees.
The new office design aims to enhance innovation and productivity by increasing function-based workspaces and by prioritising needs of all employees.
"This is a great showcase of a modern workplace, and of our close collaboration with local partners to drive continued innovation in this cloud-first, mobile-first world," said Horace Chow, general manager of Microsoft, Hong Kong.
Unlike a traditional office, Microsoft's new workplace is designed more like a laboratory and a springboard from which to give employees an opportunity to break out of boxes and build communities.
There are no dedicated seats for staff. Instead, the company wishes to promote interaction among staff, and foster social bonding.
In line with that effect, the office has no desk phone. Employees communicate through Skype for business, using tablets and phones for instant communications and conferencing anytime, anywhere.
Open meeting areas meet the needs of different types of meetings and discussions.
Adjustable table is designed for health and wellness of staff which enables employees to stretch their back.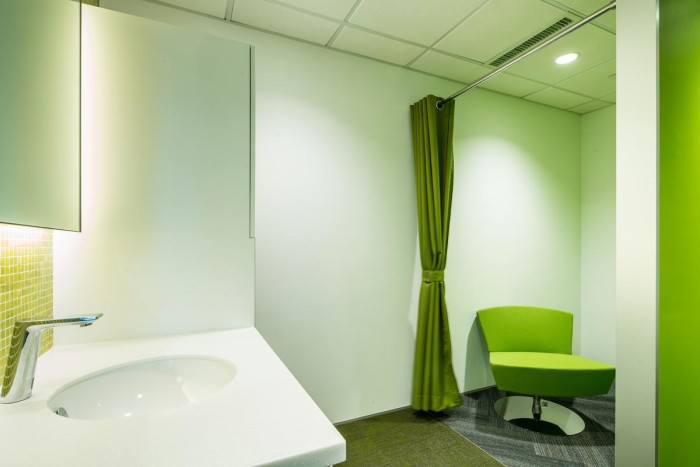 Mother's Room caters for specific needs of working mothers.
Touchdown areas enhance staff mobility, and lockers give dedicated spaces for the personal belongings.
The design of the new office  aims to nurture collaboration with customers and partners, including local startups, through a great showcase of joint innovations.
More than 50 solutions and demos, including the latest devices of different form factors and screen sizes, have already been built into the Microsoft Experience Center.
Creative blackboard promotes ideas generation and creativity.
Collaborative hubs facilitate teamwork and brainstorming.
The company also expanded into the consumer market, including gaining leadership in the gaming market with Xbox and bringing digital lifestyles for everyone.
Xbox wall showcases the latest Xbox One, accessories, premium gifts, special edition cross-over designs with brands and exhibits of the Xbox-exclusive game Halo.
Image: Provided