Back in Hong Kong for its fourth year on September 5 at the Hotel ICON, Learning and Development Asia is bigger and better than ever before and earned its reputation as the most influential L&D strategy event in Asia.
Book your tickets now!
Contact us now for an amazing group discount
Employees at Macau Golden Group are being offered cash rewards and plane tickets worth MOP$10,000 (HK$9,709) as well as four extra days of paid leave, according to a memo shared on Facebook.
According to the memo which was issued on 31 August with the group CEO's signature at the bottom, management is very pleased with employees upholding their roles when the city was hit by Typhoon Hato and Typhoon Pakhar. It praised employees for demonstrating excellent team work in safe-guarding the company's property during the chaos caused by the typhoons.
All employees were offered four extra days of paid leave, two plane tickets to South East Asia worth MOP$6,000, and MOP$4,000 in cash rewards.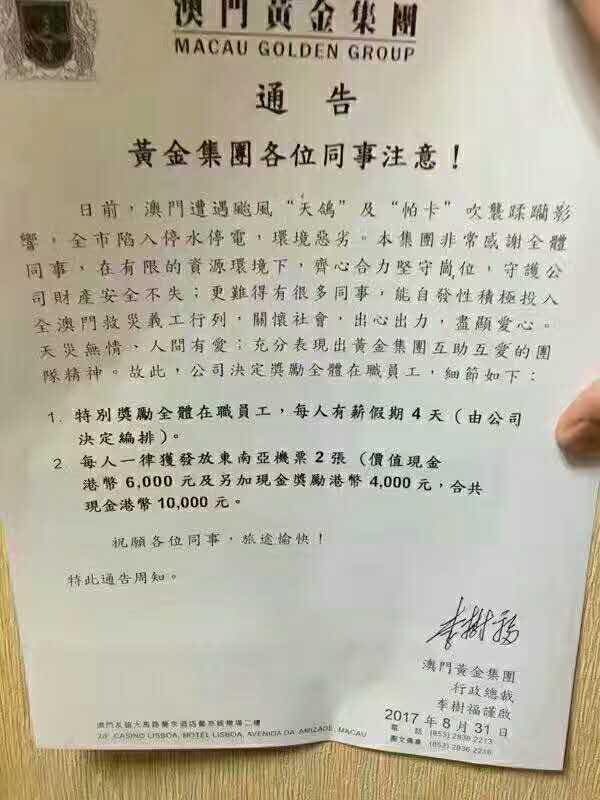 Human resources practitioners, please share with us what you think of this reward policy.
ALSO READ: "Generous" boss rewards staff with Apple 7
Photo/ 123RF 

Back in Hong Kong for its fourth year on September 5 at the Hotel ICON, Learning and Development Asia is bigger and better than ever before and earned its reputation as the most influential L&D strategy event in Asia.
Book your tickets now!
Contact us now for an amazing group discount