To help curb the spread of COVID-19, Malaysia has been put under lockdown since the Movement Control Order (MCO) came into effect on 18 March 2020.
With the MCO having been extended twice, first to 14 April, then to 28 April, a survey of 1,105 Malaysians by YouGov Omnibus revealed that the majority (87%) of Malaysians agreed with the first extension. Only 5% disagreed with it, while the remaining 8% were undecided.
The survey, conducted between the first and second extension, further revealed that on the assumption that the MCO needs to be extended further, almost half (46%) of Malaysians said they were willing to abide by it indefinitely – as long as it takes to combat the spread of the virus. A quarter (25%) said they were willing to abide by it for another two weeks, one in seven (15%) for another months and one in seven (14%) for another three to six months.
While most Malaysians (89%) claim to be following the MCO closely, 3% admitted they have not. The remaining 8% claim to be somewhat following the MCO. Those aged 35 to 44 are the most likely to not be following the order closely, with 7% claiming not to do so.
Latest YouGov data also looked at how Malaysian livelihoods have been impacted by this and what they see for the future of the nation's economy.
Given that the MCO requires all companies that do not fall under "essential services" to temporarily close, it is no surprise that livelihoods have been impacted. While some require staff to work from home, others were told to go on leave or let go.
In line with that, 38% have said their earnings have been affected by the MCO, while 59% of Malaysians incomes remain unaffected by the MCO.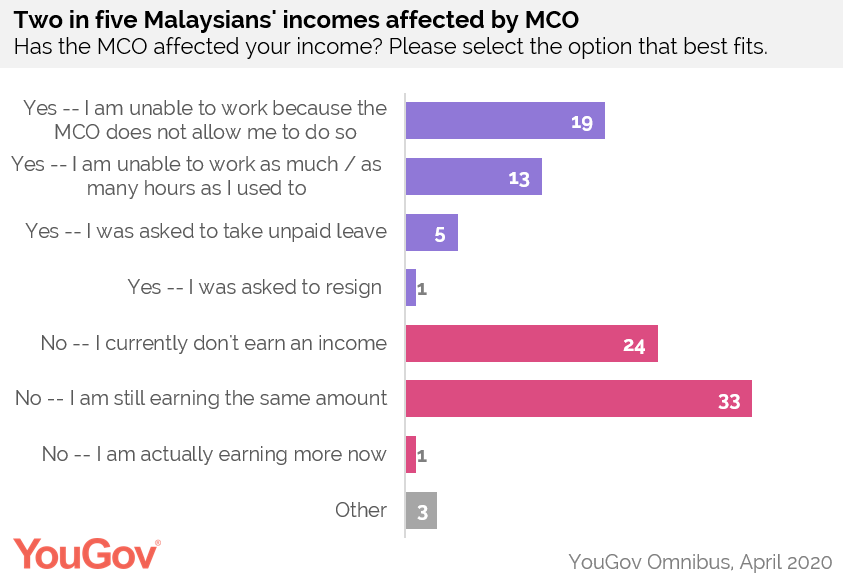 To ease the burden of COVID-19 on Malaysians, the government announced a RM250bn Prihatin package, later adding RM10bn to it to support SMEs.
With these measures in mind, 46% of Malaysians feel optimistic about the nation's economic future. A quarter (26%) feel pessimistic, and the remaining three in ten (29%) are undecided.
Interestingly, those from high-income households (earning more than RM8000 a month) are much more likely to feel pessimistic than low-income earners (earning less than RM4000 a month) (49% vs. 18%).
Jake Gammon, Head of Omnibus APAC at YouGov Omnibus commented: "As the world continues to battle this pandemic, Malaysians remain under the lockdown for over three weeks now. Though a significant amount have had their incomes affected by the MCO, it appears most are co-operative and in support of the lockdown – many going so far as to say that they are willing to abide by the MCO for an indefinite period of time to combat spread of the virus."
Infographic / YouGov Omnibus
Photo / 123RF
---
Human Resources Online is on Telegram! Follow us @humanresourcesonline or click here for all the latest HR and manpower news from around the region.