Back in Hong Kong for its fourth year on September 5 at the Hotel ICON, Learning and Development Asia is bigger and better than ever before and earned its reputation as the most influential L&D strategy event in Asia.
Book your tickets now!
Contact us now for an amazing group discount
When relocating to another country with their families, besides considering their potential salaries, as well as the cost of the living of their city of relocation, expats also have to consider the cost of education, either for themselves, or for their children – which can be quite expensive at times.
Based on ExpatFinder International School Fee Survey 2017, China leads the rankings as the most expensive country in Asia Pacific, and third in the world, while Singapore clinches the silver medal as the second most expensive country regionally, and fourth globally.
The five most expensive APAC countries for education are:
#1 China
Median yearly cost of tuition fees: US$25,820
#2 Singapore
Median yearly cost of tuition fees: US$23,198
#3 Kazakhstan
Median yearly cost of tuition fees: US$22,650
#4 Hong Kong
Median yearly cost of tuition fees: US$18,465
#5 Vietnam
Median yearly cost of tuition fees: US$17,857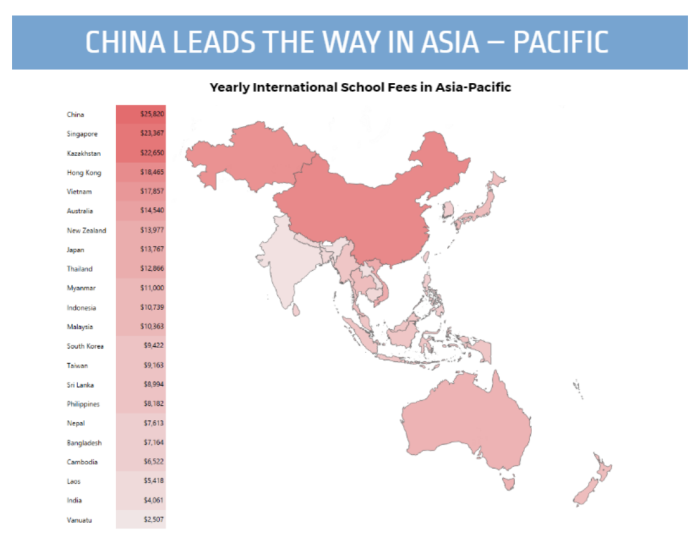 Sébastien Deschamps, CEO and co-founder of ExpatFinder.com, said: "The rising cost of international education is exacerbated by increased demand from wealthy or even middle-class families of emerging nations in Asia … who want a grounding in international curricula for their children. We have also seen significant reductions in subsidies offered by home governments and international schools, further compounding the financial outlay of expat parents who may already find fees at top-end international schools out of reach."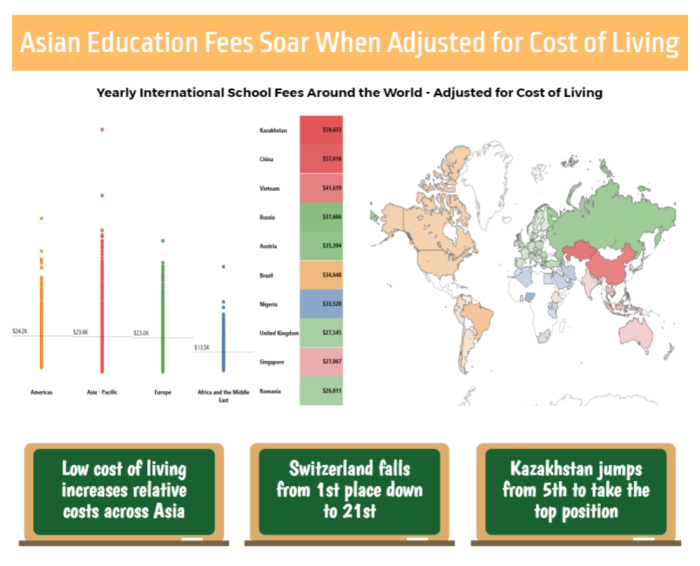 What can companies do
While comprehensive corporate relocation packages for expats are no longer the norm, companies are beginning to directly sponsor international schools instead, lowering the cost for all parents.
Some companies are even working with external providers of education to set up their own corporate schools around the world, ensuring that their employees' children can access a world-class education, even in the most unlikely places.
"More companies should adopt a procedure where if local schooling is adequate and available, then this should be considered, instead of searching for international schools at the start.  This, of course, would entail a longer time frame for the entire service, but could result in cost savings for the company and a seamless educational transition for the employee's children," advised Naren Damodaran, executive/senior global mobility professional.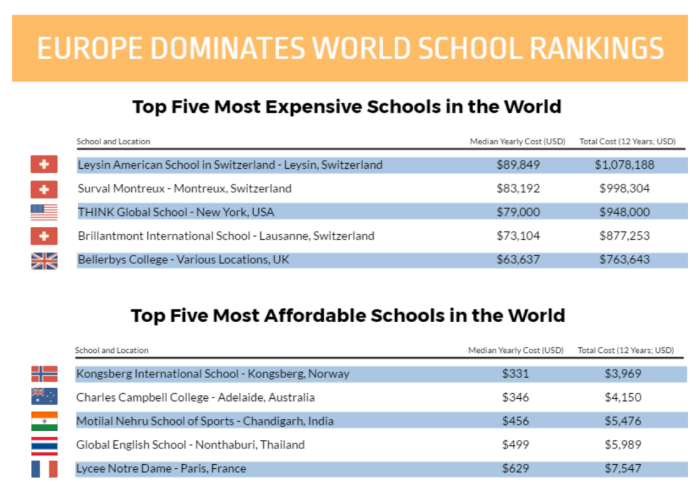 ALSO READ: The most expensive cities for international schools
Lead photo/ Provided
Infographics/ Provided

Mark your calendars as the crowd's favourite candidate and employee experience conference, Talent Experience Forum is back!
Happening only in KL, Malaysia on 5 November. Register your seat early because you will be hearing top insights from C-suite and senior HR leaders from Dell, Digi, GoCar, IPG Mediabrands, Nestle, Tesco, Unilever and more.