Uncover and learn about complex HR innovation tools and strategies at Accelerate HR from Thailand's largest employers including Agoda, DKSH, Fonterra, FWD, Kasikornbank, Minor Food, Nissan Motor and more.
Happening in Bangkok on 26-27 November, group discounts when you bring your team.
Rolex is the brand that people in Hong Kong would be proudest to work for, according to a new survey.
YouGov released the latest ranking list of the YouGov BrandIndex, which asked respondents in Hong Kong whether they would be proud or embarrassed to work at 290 brands. These rankings were based on a year's worth of data to 30 April 2018.
In a list populated by a sprinkling of upmarket brands, Rolex, the luxury watch manufacturer tops the Employer Reputation rankings with a score of 28.5. It is ahead of hospitality provider, Four Seasons Hotel and Resorts (+24.7), and payments provider VISA (23.0). Sports goods brand Nike is forth (20.7), and banking giant HSBC rounds out the top five (20.2).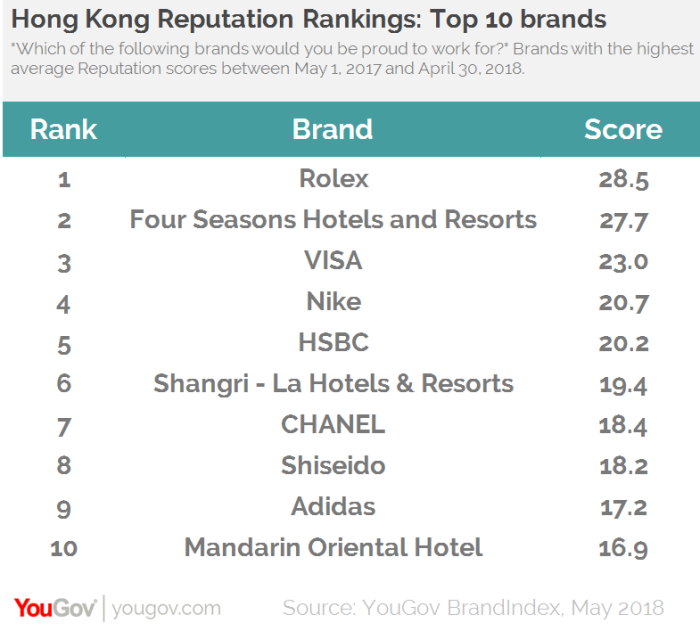 Higher-end brands fill out the rest of the top ten. Shangri-La Hotels & Resorts is in sixth (19.4) and fashion house Chanel in seventh (18.4). Shiseido, the Japanese personal care brand, is the employer in the eighth position (18.2), Adidas ninth and the Mandarin Oriental Hotel tenth. (16.9).
YouGov has also published its top ten improvers, which is dominated by airline brands. Malaysian Airlines(+4.5)  is the brand with the most improved reputation as an employer, followed by China Eastern Airlines (+3.2) in second and China Airlines (+3.0) in third. Elsewhere on the list, Thai Airways is joint seventh alongside Hong Kong Airways (both +1.8).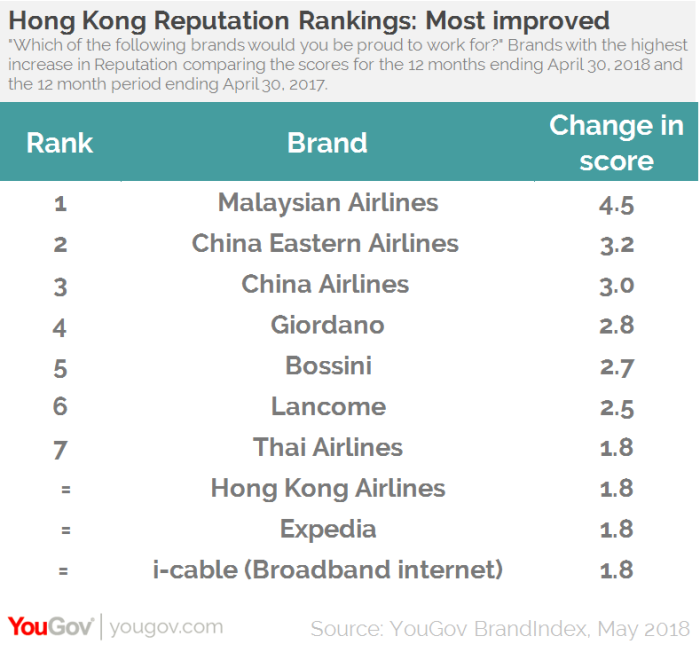 This article was originally published in Marketing Interactive.
Photos / Supplied
ALSO READ: Can you guess this year's best and worst jobs?