Middle Eastern cities Dubai (UAE) and Tel Aviv (Israel) are Asia's most expensive cities to relocate to (on the basis of first-month living costs), ranked first and ninth globally, in a new study by furnished apartment search engine, Nestpick.
Based on the relocation costs for the first month, the following are the world's most expensive cities: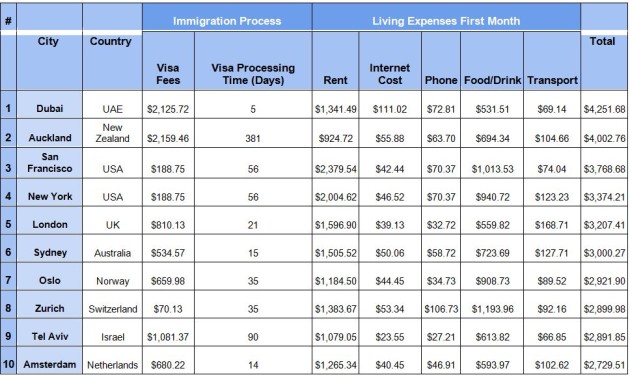 Nestpick conducted the survey across 80 cities, and researched factors such as visa fee, visa processing time, rent prices, internet cost, phone service, food and drink expenses, public transport costs, and more, based on the total cost involved for the first month of relocation.
Among the other expensive Asian cities to relocate to, featured in the global ranking, are:
12th – Hong Kong (just US$ 24.19 for the visa, however rent is about US$ 1,654.31
15th – Singapore (average of 14 days visa processing time, and US$ 1,390.70 in rental)
44th – Shanghai (US$ 735.77 in first-month house rent, and about US$ 15.03 for the internet)
62nd – Bangkok (mobile and internet expenses at about US $20.92 and $17.67 respectively)
71st – Kuala Lumpur (food expenditure of about US $425.86 and 61 days in visa processing time)
Ömer Kücükdere, managing director of Nestpick, commented: "The cost of living is often a huge factor for those looking to move, with the initial month almost always incurring extra costs due to potential visa applications."
The following are the world's least-expensive cities to relocate to, based on first-month living costs:
Graphics / Nestpick
Lead photo / StockUnlimited

"The Asia Recruitment Award is the oscars of the recruitment industry. A display of the best of the best!"
Start your entries preparation early.
Open to both in-house recruitment & talent acquisition teams and recruitment solution providers.