Executives and professionals in Singapore's financial services sector who are expecting a dramatic increase in pay this year are going to be disappointed.
Mercer's study on executive compensation in the financial services sector forecasts modest base pay increases in 2015, averaging between 2.3% to 3.2%. The hikes are expected to be led by emerging markets at 5% to 8%, followed by North America at 2% to 3%, and Europe in the range of 1.5% to 2%.
"Financial services companies in the region seem to be exercising conservative fixed pay increase. The days of guaranteed, inflation-based pay increases may be limited; with more and more companies linking salary increments to performance and market pay competitiveness," said Shai Ganu, executive rewards leader for Mercer ASEAN.
"We also expect companies in the region, especially the banks to tighten governance mechanisms around variable compensation, both short and long-term incentives."
Overall, projections for base salary increases in the banking industry are generally lower than that of the insurance industry.
Incentive levels are also expected to hold steady, as 60% of companies forecast levels to be similar to 2014, while just one-fifth expect them to increase from last year.
While lower increases are expected in fixed-income and staff positions, increases in private banking, private equity, investment banking, and property & casualty insurance roles are expected to be higher.
In addition, most companies are not planning to change the design of their incentive plans. However, a quarter of banks are looking to increase the weight of non-financial metrics in their plans.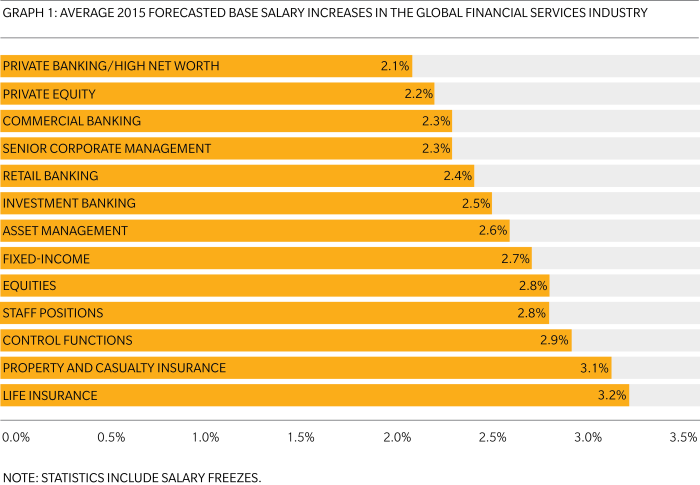 Lead image: Shutterstock