In a previous post, commentator Leung Kai Chi shared where the most educated talent in Hong Kong lives, with data collected in 2011 by the Census and Statistics Department on residents living in over 400 major housing estates in Hong Kong.
Making use of the same set of data from the department, Leung looked at where people working in different industries live.
High-income tycoons in financing, insurance, real estate and business services live in luxury housing estates; they are the only group that is earning enough to afford those locations.
People serving in public administration, education, human health and social work activities (which refers to civil servants, teachers, medical professionals and social workers) are only able to afford private housing estates which are less fancy.
One interesting finding is the high percentage of workers serving the miscellaneous social and personal services sector living in luxury housing estates. Do not be surprised, they are the domestic helpers serving and also living with high-income families.
For blue-collar workers, people who work in construction live in public housing estates. Other blue-collar jobs, logistics and transportation, see most of the workers living in Tung Chung and Tsing Yi. Leung explained this is maybe because it is more convenient for these workers to live near the airport.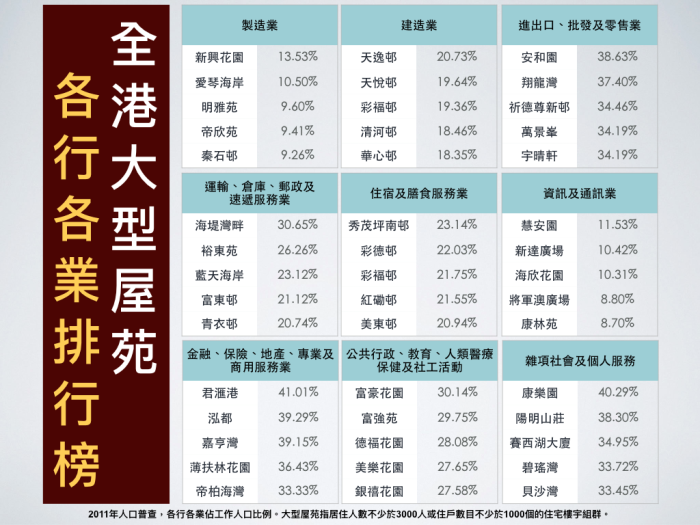 Source:  Facebook of Leung Kai Chi 
Photo/ 123RF