The highest pay increases in three years – plus historically low inflation rates – mean employees across the world can anticipate average salary increases of 2.5% in 2016, net of inflation.
Asia, however, surpasses the global average, where real wages are expected to rise by 4.2% – the highest globally, Korn Ferry Hay Group's annual salary forecast.
Within the region, Vietnam leads the way with the largest real wage increases forecast at 7.3%.
China and Thailand are not too far behind, at 6.3% and 6.1%, despite China's economic slowdown, plummeting stock markets and reduced exports.
Seeing the benefit of being a part of the fastest growing major economy, Indian workers are forecast to see the highest real wage increase in the last three years, at 4.7% compared to 2.1% last year.
Malaysia, Singapore and Hong Kong feature much lower down the order, with forecast increases of 3.9%, 3.7% and 1.4% respectively, net of inflation.
Salary forecasts for Asia in 2016:
Vietnam – 7.3%
China – 6.3%
Thailand – 6.1%
Philippines – 5.2%
India – 4.7%
Korea – 4.3%
Malaysia – 3.9%
Singapore – 3.7%
Indonesia – 2.4%
Hong Kong – 1.4%
Japan – 1.0%
Philip Spriet, global MD of productised services at Hay Group, said that despite Asia driving the growth in wages, the global labour market is in flux as the aging workforce in advanced economies takes hold.
"In emerging economies, upskilling workers is crucial for companies to maintain competitive advantage. Those skilled employees can expect to see wages rise as talent shortages in certain regions drives salaries up," he added.
In addition, Dr Mana Lohatepanont, MD for Southeast Asia at Hay Group, noted Vietnam has topped the region's real wage increase at 7.3% due to employers giving high salary increases in a competitive talent market.
Over at Singapore, the low increment projection is in line with muted business sentiments amid a global slowdown and businesses adopting a still-cautious outlook.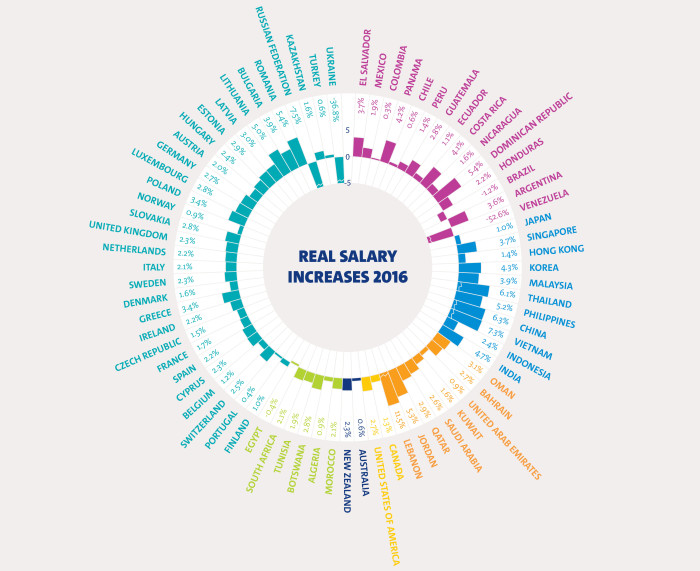 Looking for more data around salaries?
Find out why two in five Hong Kong employers are planning for pay raises below 5% in 2016 or the reason behind 70% of Malaysian employers being disappointed with the quality of fresh graduates.
Lead image: Shutterstock
HR Vendors of the Year Awards is back again for its 5th year with a fascinating gala night to celebrate the best HR vendors in Hong Kong. Winning is both an affirmation of the exceptional quality of your work in the industry and among peers. Enter Awards now
Contact us now for more details.