Less than a month to Learning & Development Asia. Speakers from Axiata, BHP Billiton Shared Services, Fave, HRDF, Samsung confirmed to speak with more than 120 attendees.
The region's largest conference for HR and L&D practitioners - you don't want to miss it.
Last few seats available, you don't want to miss it. Register now.
The increasing cost of living is the number one financial concern (85%) for working Singaporeans between the ages of 25 to 45 – a reason for HR leaders to pay more attention to their rewards strategies.
Close to two in three (63%) cited increasing healthcare costs as the second major financial worry, while the monetary strain of caring for ageing parents worried 57% of employees.
These financial priorities were uncovered in AIA Singapore's new report, which also found that more than eight in 10 married couples (87%) disagree with their spouse half or more of the time on financial matters.
Perhaps one reason could be that the genders had opposite priorities on what to do with the money they make – the majority of women preferred to put money into savings, while the majority of men opt to channel money into investments.
When probed further, about one in five married individuals said holiday expenses, purchasing big ticket items such as a car, and allocation between savings and investments were the three decisions they typically argued about.
Currently, more than one-third of married employees say they make joint financial decisions all the time, while the 41% majority said most things are discussed on the table.
Detailed findings in the infographic: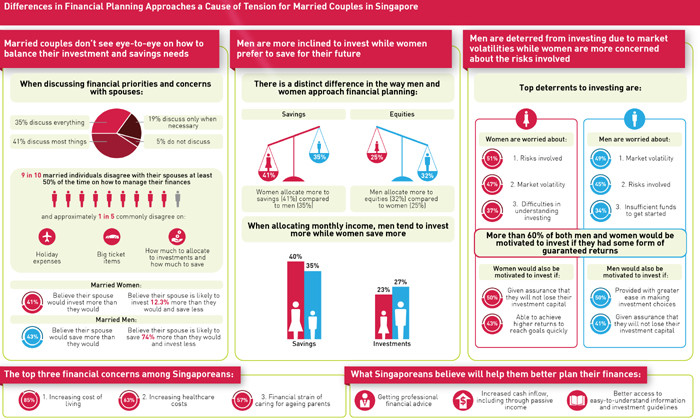 ALSO READ: How appreciating staff might actually kill their productivity
 Lead image: Shutterstock
HR Vendors of the Year Awards is back again for its 5th year with a fascinating gala night to celebrate the best HR vendors in Hong Kong. Winning is both an affirmation of the exceptional quality of your work in the industry and among peers. Enter Awards now
Contact us now for more details.