Hong Kong boasts one of the best airports in the region, arguably the best transportation system in the world and once again tops the list of most expensive locations for expats to rent a home in Asia.
ECA International released their latest accommodation survey on Tuesday, found rental prices for an unfurnished, mid-market, three-bedroom apartment in areas commonly inhabited by international executives in Hong Kong average USD 10 461 per month. More than 2000 US$ more than runner-up Tokyo where rents continue to rise by an average of 4%.
"With a high population density and a consistently limited supply of property, the average rent in Hong Kong continues to remain more expensive than in other high-profile Asian cities," said Lee Quane, Regional Director – Asia, ECA International in a press release. "Rents have risen slightly in the past 12 months. However, despite the high rental costs in Hong Kong, rents for the type of accommodation featured in our research remain lower than they were in 2012."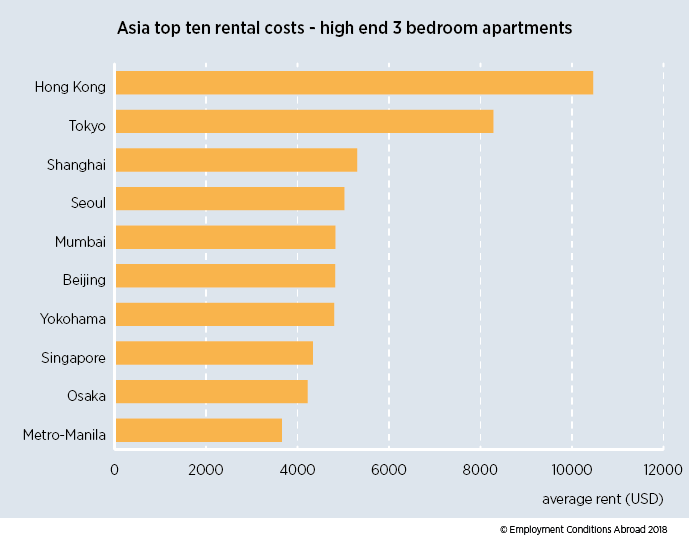 Singapore managed to slip down the rankings to 8th spot, down one place from last year and 4th in 2016.  "This is due to a slowing of economic growth and a net reduction in inbound assignments, exacerbating the surplus of higher-end properties on the market that would normally attract expatriates. This oversupply has reduced average rent levels in Singapore for the past three years, said Quane"
Likewise, Kuala Lumpur's fall down the rankings shows no signs of stopping. The Malaysian capital is now out of the Asian top 40 most expensive rental locations and more affordable than places such as Colombo, Sri Lanka, and Kathmandu, Nepal.
"The property market in Kuala Lumpur has suffered from high levels of speculation over the past couple of years and high levels of new construction. The market is oversupplied, and landlords are having to compete significantly on price to secure tenants," Quane said.
"The domestic economy has not been strong enough to bolster demand for the excess of higher-end properties on the market. However, a slowdown in property construction and cooling measures from the Malaysian central bank should see the market stabilise in future years," he added.
In general, the costs of rental accommodation in Asian cities have risen in the past 12 months, with declines evident only in a handful of locations, such as Ho Chi Minh City, Jakarta and Yangon.
| | | |
| --- | --- | --- |
| Location | 2018 ranking | 2017 ranking |
| Hong Kong | 1 | 1 |
| Tokyo | 2 | 2 |
| Shanghai | 3 | 5 |
| Seoul | 4 | 3 |
| Mumbai | 5 | 8 |
| Beijing | 6 | 6 |
| Yokohama | 7 | 4 |
| Singapore | 8 | 7 |
| Osaka | 9 | – |
| Metro-Manila | 10 | 10 |
Infographic/supplied
ALSO READ: 'Small potato' dismayed by boss moving into his luxury estate