In BCG's Sustainable Economic Development Assessment (SEDA), Malaysia has ranked 53rd globally, with a score of 59.8 – in a measure of relative well-being of a country's citizens and how effectively a country converts wealth, as depicted by income levels.
Singapore is the only Asian country that has made it to the top 10 global ranking, standing on 7th spot, ahead of Finland, Austria, and Netherlands. Rounding off the top six are Norway (score of 85.3), Switzerland, Iceland, Luxembourg, Denmark, and Sweden respectively.
Among other major nations, Australia has ranked 13th, US is on 17th spot, while the UK squeezes in to the top 20 at the 19th rank. Asia is represented by South Korea on the 29th spot, China ranking 72nd, and Vietnam following closely at 73rd.
Coming back to Malaysia, it ranks the highest on the economic stability index at a 88.7 score, but is lowered by the 36.2 score on income, and 46.6 on environment.
The following is Malaysia's full set of scores: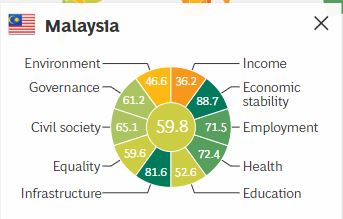 Lead photo / 123RF
Graphic / BCG 

"The Asia Recruitment Award is the oscars of the recruitment industry! A display of the best of the best!"
Submit your entries for the Asia Recruitment Awards before 22 February 2019.