HR professionals in Hong Kong are likely to receive a pay rise between 2.8 and 3.5% in 2018 according to global recruitment agency, Randstad's annual salary snapshot report for the region. The report highlights salary benchmarks, market trends and in-demand skills across various industries.
According to Randstad contract roles are on the rise in organisation development and change management for experienced HR professionals. In 2018, the report predicts contract roles for senior executives to expand to make up 35% of the overall workforce.
"Companies are encouraged to jump on the "digital bandwagon" to stay ahead of the game. Digital disruption is no longer a hot buzzword but rather a critical strategy for businesses looking to stay relevant and remain competitive," said Natellie Sun, managing director of Randstad Hong Kong in a statement.
Skills in using technology to support candidate identification through mining data and data scientists who are able to use predictive analytics to improve retention and employee engagement are in high demand for Hong Kong companies.
Human resources and business support 2018 salaries.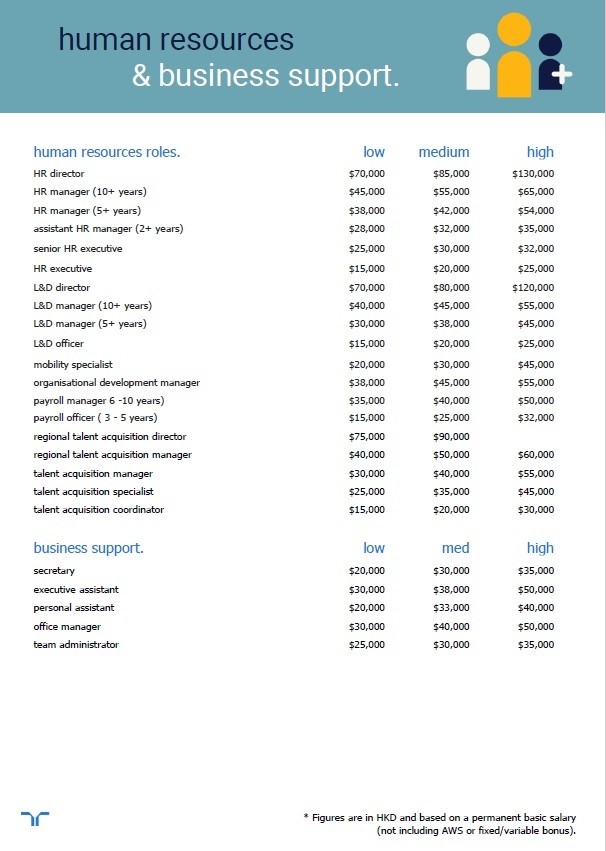 Other highlights and employment trends to look out for in 2018;
● Banking & financial services: Wealth management, know-your-customer and compliance remained most in-demand with experienced professionals commanding as high as 58% salary increments and 30% respectively for junior staff.
● Construction, property and engineering: Linguistic fluency in Mandarin, regional mobility, extended network and having an entrepreneurial mindset are key attributes that employers look out for.
● Sales, marketing and communications: Need for skilled communications professionals within the financial services space will remain steady in 2018 and well-performing, experienced professionals may command up to 20%increase in salary when moving to a new employer.
Photo/ Randstad
ALSO READ: Are you underpaid? Hong Kong salary checklist 2018