Malaysian kopi tiam restaurant chain OLDTOWN White Coffee has apologised for a job posting put up by one of its franchisees, in which it said priority would be given to Malay and Chinese applicants.
Last Saturday, the public began posting the job ad on OLDTOWN's official Facebook page, demanding to know why the company was discriminating against Indian candidates.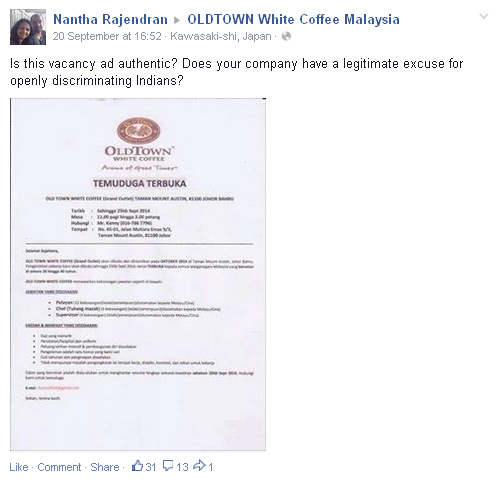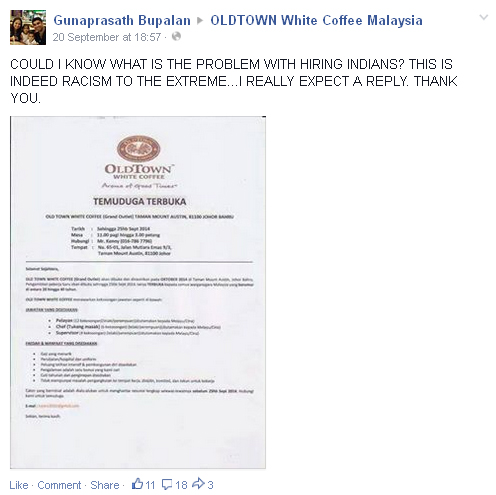 Yesterday, the chain posted a statement online: "We would like to clarify that the OLDTOWN White Coffee management was not aware of the contents of the said Job Advertisement. On behalf of the Franchisee, OLDTOWN White Coffee management would like to sincerely apologise for the unacceptable and offensive content on the Recruitment Notice.
"As a home grown Malaysian brand, we value everyone equally and it has never been our intention or the intention of the Franchisee to make any individuals feel slighted or offended in any way."
Along with the statement, OLDTOWN also published a letter from the franchisee to the board of directors at OLDTOWN. In the letter, the directors of the franchisee said they made a mistake in not informing the management of Kopitiam Asia Pacific, which runs OLDTOWN, about the job application sent to the JKT (Jabatan Tenaga Kerja).
"All races are welcomed in our recruitment process, and as we already have a substantial number of Indian staff on our workforce, we only intended to maintain a balance of all races in our outlet," the franchisee directors wrote.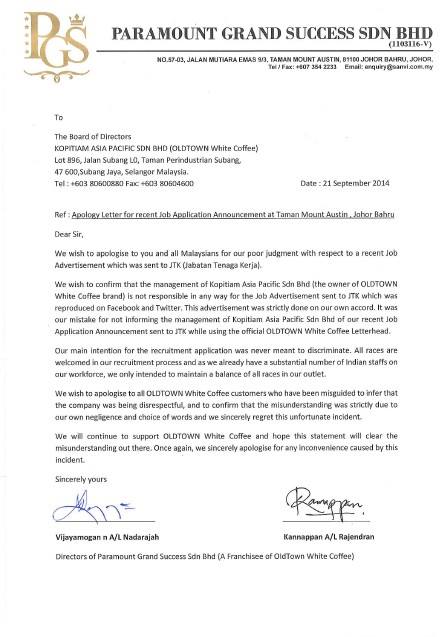 OLDTOWN added the offending job post has since been taken down, and "appropriate action has been taken to ensure that this will not happen again".
It also encouraged the public to reach out if they have any other concerns.
Images: Facebook