"Informative, Interactive, Inspiring. The conference brings new ideas and insights about current issues in talent and HR management"
Join the seventh annual Talent Management Asia, Asia's leading HR strategy conference. Register now for super early-bird savings!
According to the latest Monster Employment Index (MEI), Malaysia recorded an annual growth of 2% despite the annual decline of -8% last month in January 2018 when it comes to the demand of HR and admin professionals. The study revealed that Malaysia notably improved (up 10 points) in February.
As for the bigger picture, Malaysia registers 11% growth on-the-year in online job posting activity. On that note, IT, Telecom/ISP and BPO/ITES register the steepest annual growth among sectors; whereas, BFSI exhibits the most-notable decline. Meanwhile, software, hardware, and telecom professionals witness the most-notable growth in annual demand.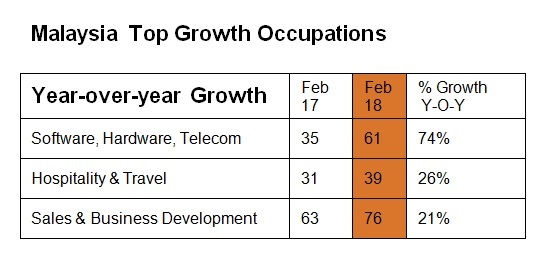 Meanwhile, Singapore's demand for HR and Admin professionals remained stable in January and February 2018, recording no annual growth or decline at the start of the first quarter.
In the release, it stated: "As the war for top digital talent continues, it's no surprise the demand for highly skilled HR professionals is on the rise at the beginning of 2018."
On that note, Abhijeet Mukherjee, CEO of Monster.com (APAC & Middle East), commented: "The competition for highly skilled HR talent who can complement digital tools will only intensify as businesses in traditional sectors recognise the need for innovation and transformation. Talent management is becoming extremely strategic and transformational as a function. As tech overtakes practices and processes in the workplace, companies will be on the lookout for talented individuals who are able to use data and analytics to predict what their people needs will be in the future."
Photo / 123RF
Table / Monster Employment Index