Although property prices and rental prices of Hong Kong keep breaking all time high records, the city drops from second to 11th place across Asia Pacific in latest cost of living rankings for expats conducted by ECA International.
Exchange rates have been the main cause of movements in the rankings in the past 12 months.
"Although the price of goods has continued to rise in Hong Kong in the past 12 months, the Hong Kong dollar has weakened over the same period of time" said Lee Quane, Regional Director – Asia at ECA International.
ECA's research compares a basket of like-for-like consumer goods and services commonly purchased by assignees in 475 locations worldwide.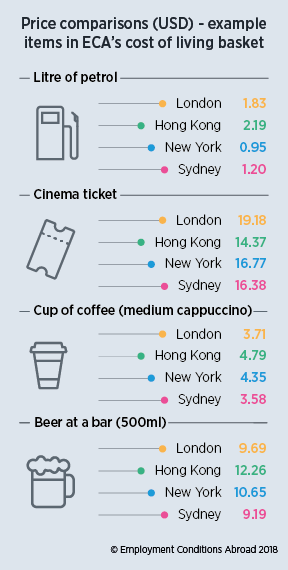 Cost of living in Chinese cities continues to rise, with Shanghai being the most expensive, ranking number 10 globally.    Tokyo is the most expensive Asian city in seventh place globally.
Quane said "There has been a major rebound for the Chinese cities in our latest cost of living rankings. Last year we reported that Chinese locations had all dropped in the rankings but 12 months later the long-term upward trend has returned, and they have risen significantly. However, the stronger yuan pushed all locations up in our rankings, with Shanghai overtaking Hong Kong."
Meanwhile, Singapore saw a slight rise its ranking but is still ranked lower than it was at its peak in 2016.
"The Singapore dollar has performed better over the past 12 months against the US dollar than it had done in the previous year, leading to a slight increase from 24th place up to 20th," added Quane.
Sitting at the top of ECA's list of the most expensive cities in the world is Caracas, Venezuela.  Inflation in Venezuela has rocketed over the past year causing a significant hike in the cost of living.  The county's  inflation reached an astounding 7000 per cent in the year to March 2018 and 1800 per cent over the last six months alone.
Global – Top 10 most expensive locations
| | | |
| --- | --- | --- |
| Location | 2018 ranking | 2017 ranking |
| Caracas, Venezuela | 1 | 9 |
| Zurich, Switzerland | 2 | 3 |
| Geneva, Switzerland | 3 | 4 |
| Basel, Switzerland | 4 | 5 |
| Bern, Switzerland | 5 | 6 |
| Luanda, Angola | 6 | 1 |
| Tokyo, Japan | 7 | 7 |
| Seoul, Korea Republic | 8 | 8 |
| Oslo, Norway | 9 | 12 |
| Shanghai, China | 10 | 13 |
ALSO READ: Depression is the number one mental health issue faced by expats