A candidate asking a hiring manager to share an ice cream cone, and mailing a hiring manager money in an envelope are among the oddest things done by desperate job seekers. But some hiring managers are not living up to their title as professionals either, according to some candidates on Hong Kong Discussion Group.
Here are some of the things Hong Kong job seekers have to say about the questionable behaviour from hiring managers they've been exposed to during their job search.
Made fun of candidate's CV
Shared in a viral Facebook post, a netizen showed how a hiring manager mocked her sister's application for a fashion marketing executive opening.
After receiving the job application, the hiring manager replied that her "so called cv" failed to demonstrate she had any experience related to the job.  The hiring manager also said the candidate's expected salary was "kind of ridiculous", and advised her to be more down to earth with regards to her job search.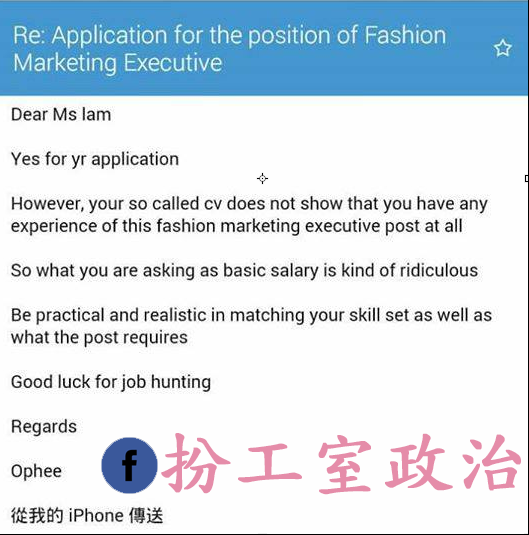 Asked inappropriate questions
The hiring manager asked the job seeker whether he had a license to drive and was familiar with the roads in Hong Kong.  The opening was for an office job.
On a different occasion, an accounting job candidate was asked by the interviewer if he was any good at giving a scolding.
Rude hiring managers
An interviewer picked up his cell phone in the middle of the job interview and asked the candidate to leave the room so he could talk on the phone.  It took almost 10 minutes before the candidate was asked to return to the interview.
Silence is golden
A candidate was met by four interviewers but only one spoke.  The other three kept silent the entire time.
Made a candidate stand to fill in an application form
A job seeker said he was given an application form and a clipboard and was told to fill out the form while standing up.
ALSO READ: 5 surefire ways to scare off candidates
Photo/ 123RF | Screenshot / Facebook