How do you know if your #learning is relevant for the #future?
Find out at the region's largest conference for HR and L&D practitioners, Learning & Development Asia, happening in September.
Register for early-bird savings now.
Candidates might prefer for hiring managers to interview them after 5 p.m. – but is that time really the best for bosses to be conducting interviews?
Apparently not, according to new research by Accountemps, which surveyed more than 2,200 chief financial officers (CFOs) on the best and worst times for conducting interviews.
The study found only 2% of respondents chose 5 p.m. and beyond as the most productive time for meeting job candidates.
The period between 3-5 p.m. was also seen as unfavourable by those polled, with only 5% saying they view it as an optimal window to interview job seekers.
The best time identified for hiring managers to interview candidates was found to be between 9 to 11 a.m – as highlighted by 61% of respondents.
ALSO READ: The boss's most memorable interview mistakes
"Mid-morning is an ideal time for a job interview because it gives the interviewer time to set daily priorities and settle into his or her day before the meeting," said Bill Driscoll, district president for Accountemps.
"Avoid scheduling an interview late in the afternoon when fatigue sets in. Late afternoon is also the time when interviewers may start shifting their focus to personal priorities."
Here is the complete breakdown of the results: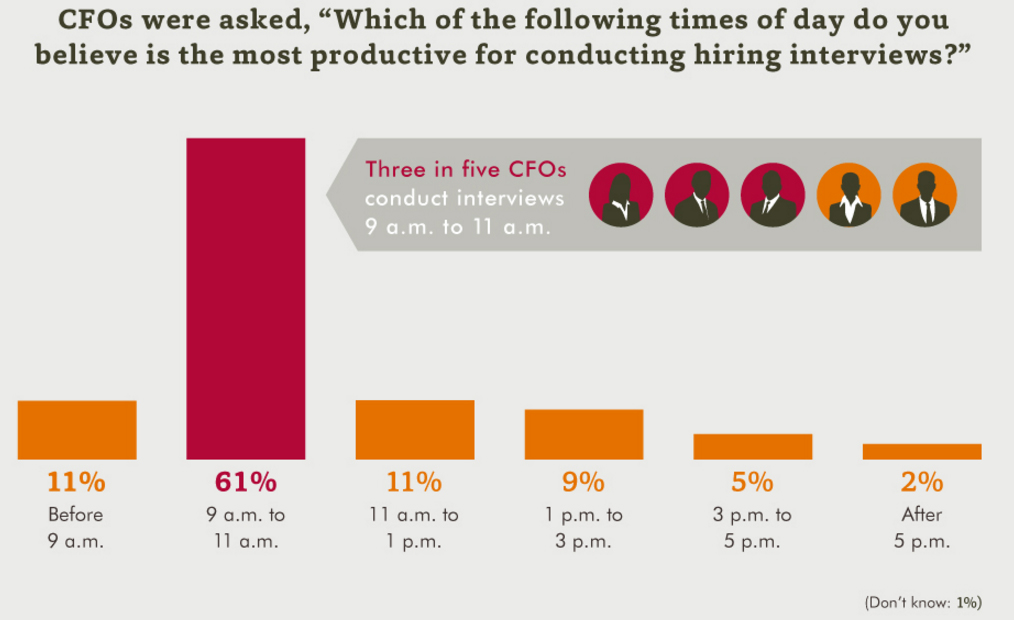 Speaking of timing, the research also found the first few minutes of a job interview can be the most telling.
More than half (60%) of CFOs said they form an opinion of the candidate within the first 15 minutes.
Image: Shutterstock
For the 5th consecutive year, HR Distinction awards will again honour the very best in the HR industry. Winning is both an affirmation of the exceptional quality of your work in the industry and among peers. Submit your entries now!
Contact us now for more details.