An Australian tech executive has gotten himself into trouble after making a very public and sexist statement.
Evan Thornley, head of venture capital firm SBDO, was presenting at a start up conference in Sydney last Friday when he showed a presentation slide which include the statement "Women: Like men, only cheaper".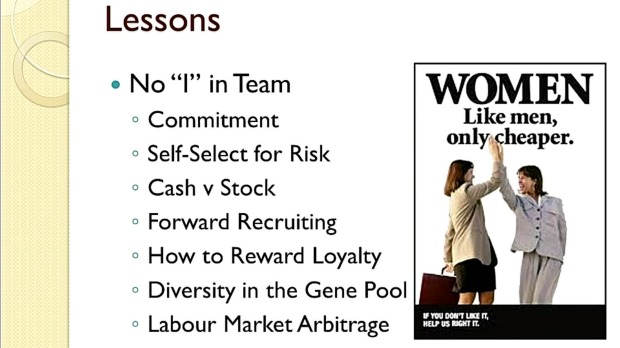 Startup Daily, which reported on the incident, published an excerpt of what Thornley said:
I think when we went public on the NASDAQ I was the only company in Silicon Valley that had a majority of women on the senior management team, at least for a period of time.
The Australian labour market and the world labour market just consistently and amazingly undervalues women in so many roles in particular in our industry, so [just] call me opportunistic, I just thought I could get better people, with less competition, because we were willing to understand the skills and capabilities that these women had, so there is a great arbitrage there, we would give them more responsibility and greater share of the rewards, than they were likely to get anywhere else and that was still somewhat cheaper to what we would have had to pay for someone less good for someone of a different gender.
I'm not advocating that, that inequality should stay – I'm just saying that there is an opportunity for forward thinking people.
Thornley has somewhat apologised on the blog, saying, "Yep, stuffed that up."

Unsurprisingly, women – and men – are still upset about his comments, with many taking to Twitter: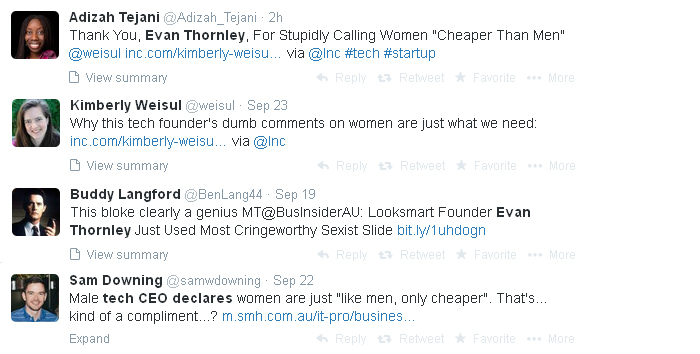 Bad move, Thornley. Bad move.
Also read: Women and minorities penalised for promoting diversity
Image: YouTube