The amount of women on boards in Hong Kong is increasing at a glacial pace. In 2016, out of the 80 new appointments to the boards of Hang Seng Index companies, only 9 were made to women, bringing the overall percentage of female board members to 12.4%.
The number shows a slight increase from the year before, when 11.1% of members of HSI boards were female. Additionally, the number of all-male boards dropped from 16 to 11 – although this was helped by the fact that two companies with all-male boards are no longer constituents of the HSI.
These are some of the findings that were presented on Tuesday in Hong Kong by Community Business during the launch of their annual Women on Boards report. Sponsored by Heidrick & Struggles, the report aims to provide companies with a benchmark, drive positive change, and acknowledge top performers.
"Of course, it also does a bit of naming and shaming," added Fern Ngai, CEO of Community Business during the presentation. She summarised the report's findings, pointing out that there's some good news and some bad news.
"Despite a slight increase in the percentage of women on Hang Seng Index boards in the last year, and a reduction in the number of all-male boards, the overall rate of change has been painstakingly slow."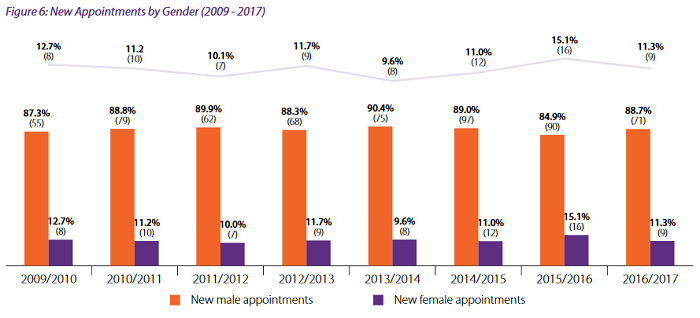 One of the well-known issues once again highlighted by the report is that of the leaky pipeline and shortage of supply – the latter being of particular importance in Asia.
"The biggest challenge we face is supply", said Karen Fifer, regional managing partner consumer markets practice, Asia Pacific at Heidrick & Struggles. "And regrettably, in the United States and Europe, they have a much larger pool of women that they can select from than we do here in Asia."
However, she also points toward a vicious cycle when it comes to appointing women with no board experience. Many accomplished, senior women are well positioned and eager to sit on boards, but boards are not willing to take the risk of appointing someone without experience. As a result, you end up with three or four women sitting on 15 boards.
"We need to do more through diversity programmes to encourage the number of women coming up through the executive ranks into CFO roles and CEO roles which are the natural filters to executive directorships," she argues. "Because if you've been an executive director, you then have board experience."
Despite the issues, Alain Deniau, partner, industrial and CEO & board practice at Heidrick & Struggles noted there's no need to despair. "Hong Kong is Europe five or six years ago, it's not so bad," he said. He added that as a younger generation comes in, change will come with it.
In response to a question from Human Resources magazine on the use of quota, Ngai reiterated her stance that across-the-board quota are not the way forward. "Research shows that quota don't translate into a higher percentage of women in high management functions," she said. "Instead of solving the leaky pipeline issues, they result in token women."
Deniau, however, sees some merit to them. "Introducing quota can be a necessary step. You may have some 'token' women, but that's ok. Once you've changed the status quo, you can simply wait for the wave of younger women from the next generation who will be inspired by the 'token' women, and you will have a more natural supply."
ALSO READ: Why women in HR are unlikely to become CEO
Graph / Community Business