Human resource generalists are the most sought-after HR professionals in 2015.
That was the key finding of Society for Human Resource Management's (SHRM) summer 2015 HR jobs pulse survey report, which surveyed 378 respondents from a randomly selected sample of its members throughout the United States.
The report found more than half (55%) of respondents who are hiring HR talent saying they were hiring for the human resource generalist position.
HR professionals with employment/recruitment skills were the second in-demand, coming in at 24%.
That category was followed by people with benefits experience (16%), employee relations skills (13%) and training/development skills (13%).
The report added, however, that only 27% of respondents stated their organisations were hiring for HR positions.
This number was unchanged from December 2014 and up from 20% January 2014.
ALSO READ: 
HR professionals are increasingly unhappy with their careers
Higher demand for HR professionals in Asia
"Hiring for HR positions depends greatly on the size of the company," said Jen Schramm, SHRM's manager of workforce trends.
"Larger companies employ more HR professionals so it makes sense that they are more likely to report that they are trying to fill HR positions, especially during a jobs recovery. Improvements in the job market are also making HR professionals more confident about seeking out new opportunities for themselves."
According to the report, only 1% of small companies (99 or fewer employees) are hiring, while nearly two-thirds of employers with 25,000 or more workers are hiring for HR jobs.
Despite the fact that job opportunities in HR have remained flat since last year, the majority of respondents this year said they could find a new job if needed.
Only 12% of those polled said they were "not at all confident" that they could land a job, down from 15% in December 2014 and 21% in January 2014.
Confidence levels were high especially among experienced HR professionals: 89% of executive-level, senior-level and mid-career-level respondents had some degree of faith that they could find work if necessary.
In comparison, 74% of early career HR professionals had some level of confidence in finding a new job.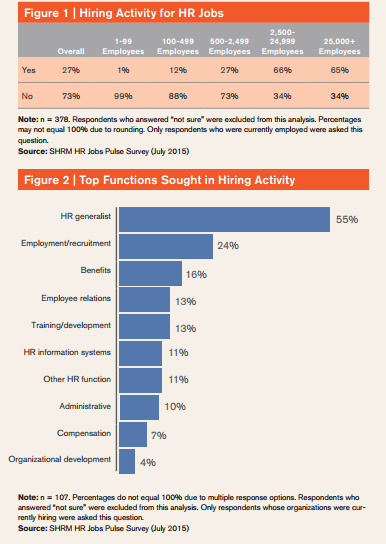 Higher salaries was highlighted as the biggest motivating factor (37%) for those HR staff who were already looking for or had planned to pursue a new job in the next 12 months
Another 33% pointed to better career advancement opportunities, and 32% said they were seeking better overall organisational culture.
Slightly more than one out of 10 respondents (11%) revealed they were seeking an organizstion where HR certifications are more valued and supported.
Image: Shutterstock