Human Resources Online is heading to Bangkok with the Accelerate HR conference on November 26-27.
HR leaders from Agoda, DKSH, Fonterra, FWD, Kasikornbank, Minor Food, Nissan Motor and more have already confirmed to speak.
Early-bird tickets are still available.
The head coach for USA's World Cup football team is helping millions of employees around the world take time off in order to watch the upcoming Germany-USA match.
Jürgen Klinsmann has issued a "get out of work letter" for staff to fill in, which has been signed by him and posted to his Twitter account.
The letter can be printed out and filled in with personal details to request they be excused from work for the crucial match.
"I understand that this absence may reduce the productivity of your workplace, but I can assure you that it is for an important cause," it reads.
It ends with a suggestion that the boss takes the day off as well, to "act like a good leader".
READ MORE: Preparing your business for World Cup fever
Although the letter is intended to help those in time zones where the game will be played during the day, with the game airing at midnight tonight in this part of the world it's possible your weary-eyed staff might have a go at filling out the provided letter.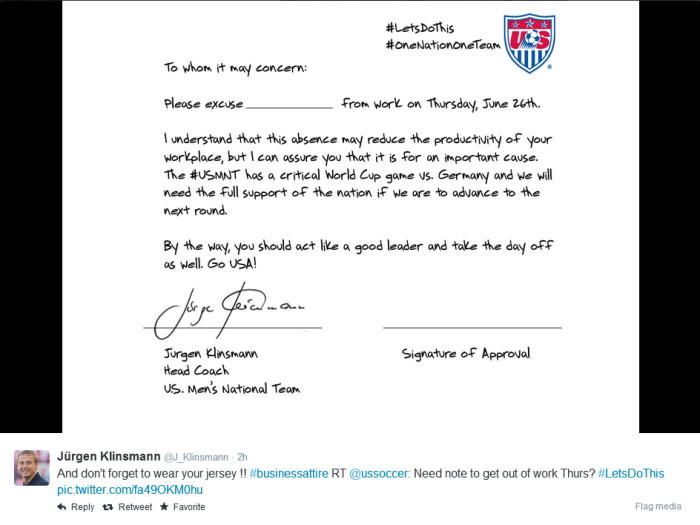 The official US soccer team website has also republished the note, stating that if the letter doesn't work in getting you time off you can just "play hooky" instead.
READ MORE: 5 leadership lessons from the World Cup
Image: Twitter