Uncover and learn about complex HR innovation tools and strategies at Accelerate HR from Thailand's largest employers including Agoda, DKSH, Fonterra, FWD, Kasikornbank, Minor Food, Nissan Motor and more.
Happening in Bangkok on 26-27 November, group discounts when you bring your team.
Earlier this week, Delta Air Lines rewarded its more than 80.000 employees worldwide with US$1.1 billion in profit sharing payments. In addition to the payments, the company thanked its employees through events and ad placements in US newspapers.
"Delta employees earned the US$1.1 billion payout for their role in delivering record-breaking operational, financial and customer satisfaction performance," a company press release states.
The US$1.1 billion payment is part of the company's profit sharing programme, through which employees "share in the succes they create together through hard work and a focus on the customer".  Over the past five years, the airline has paid out nearly US$5 billion through the programme.
In a move that combines marketing efforts with showing appreciation to staff, Delta ran ads in several large US newspapers thanking their employees.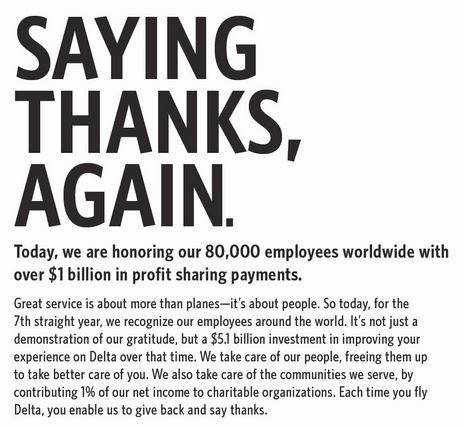 In addition to the profit sharing payments, employees will also receive a 6% raise in base pay this April.
ALSO READ: Cash bonus for 25,000 Qantas staff due to record profit
Lead image and ad / Delta Air Lines

Human Resources Online is heading to Bangkok with the Accelerate HR conference on November 26-27.
HR leaders from Agoda, DKSH, Fonterra, FWD, Kasikornbank, Minor Food, Nissan Motor and more have already confirmed to speak.
Bring your team for additional group discounts.