Although more than half (61%) of local employers said they are going to offer pay raises this year, a 1% increase compared to last year, the rate of pay raise is lower than last year.
Most (41%) of the pay rises were below 5%, while only 18% of respondents increased employees' base pay by more than 5% in the previous 12 months, a significant decline from 21.4% in 2014.
One-third (34%) also said they plan to freeze pay next year, the highest level since 2011, while only 29% of employers said they would do so this year.
For 2016, a total of about 52% and 11% of respondents said they plan to increase employees' base pay by "lower than 5%" and "5-10%", respectively, compared to 49.2% and 17.8% in 2014's survey.
Just 2% of the employers said they are going to issue pay cuts next year.
The findings were reported at the Annual Business Prospects Survey by The Hong Kong General Chamber of Commerce (HKGCC), in a survey of 408 employers,with the majority having operated in Hong Kong for more than 20 years.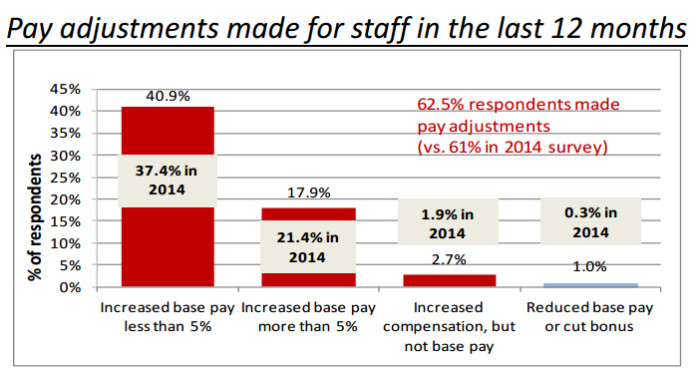 When asked about Hong Kong's business environment, 67% of respondents felt that the city's competitiveness had deteriorated over the past 12 months.
The high cost of doing business was a major concern with 29% of respondents saying the conditions are "very unsatisfactory",  compared to 24% in last year's survey.
On other other hand, many Asian cities have improved their competitiveness, particularly Singapore, where some 78% of respondents believed the country is generally more competitive than Hong Kong.
HKGCC forecast Hong Kong's real economic growth to remain modest at 2-3% in 2016, while inflation is expected to be around 2.5%.
Chamber CEO Shirley Yuen stressed that Hong Kong cannot continue to plod along business-as-usual. "Increasing Hong Kong's competitiveness is no simple task, but is urgently needed, as our competitors are catching up," she said.
"Although our low and simple tax regime remains welcomed by businesses, the introduction of a simple two-tier tax system would boost Hong Kong's competitiveness and also ease the burden on SMEs."
ALSO READ: 2.7% pay raise for middle managers in Hong Kong
Image: Shutterstock