Being rejected for a job can be tough – especially if it's with companies like Twitter and Facebook.
However, this story had a sweet twist for Brian Acton, co-founder of instant messaging apps WhatsApp.
In 2009, Acton tweeted how both companies turned him down within three months of each other. He managed to stay positive in both tweets, even joking that the commute would have been long had he been offered a gig at Twitter.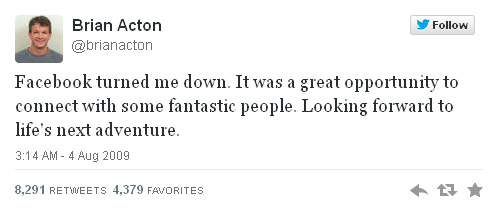 That same year, Acton launched WhatsApp with his friend Jan Koum, creating what is now one of the biggest instant messaging apps globally with 450 million active users sending 50 billion messages each day.
Just yesterday, Facebook announced it was buying WhatsApp for US$19 billion (S$24b) in cash, shares and stocks – providing for a very happy ending for Acton, Koum and their team.
After all, they do say that when one (or in this case, two) door closes, another one opens.
Image source: Twitter
For the 5th consecutive year, HR Distinction awards will again honour the very best in the HR industry. Winning is both an affirmation of the exceptional quality of your work in the industry and among peers. Book your gala dinner table now
Contact us now for more details.