With more staff being vacation deprived, offering them the perk of unlimited vacation days might seem like a brilliant idea.
But, is that what your staff really want? Apparently not, according to a recent study by The Creative Group.
The research found that out of the over 800 employees polled, 72% of executives and 56% of workers would still take the same amount of vacation days if their company gave them the option of unlimited vacation days.
This is despite 39% of executives and 39% of workers saying that staff productivity would increase if an unlimited vacation policy were implemented.
"All professionals can benefit from taking periodic breaks from work. A vacation — no matter how short or long — is essential for recharging and bringing a fresh approach to business projects and challenges," said Diane Domeyer, executive director of The Creative Group.
ALSO READ: 
Employees only use half of their vacation time
Top tips to get organised before your vacation
So, why are staff unwilling to take advantage of this perk?
According to Domeyer, "the idea of unlimited vacation time can be attractive and help staff feel more in control of their schedules."
In reality, however, "many employees have trouble breaking away from the office no matter what the official policy as deadlines need to be met."
She suggested that "managers should lead by example, taking time off themselves and encouraging their staff to do the same."
"Hiring freelancers is one way to alleviate pressure on employees and ensure projects stay on track," Domeyer added.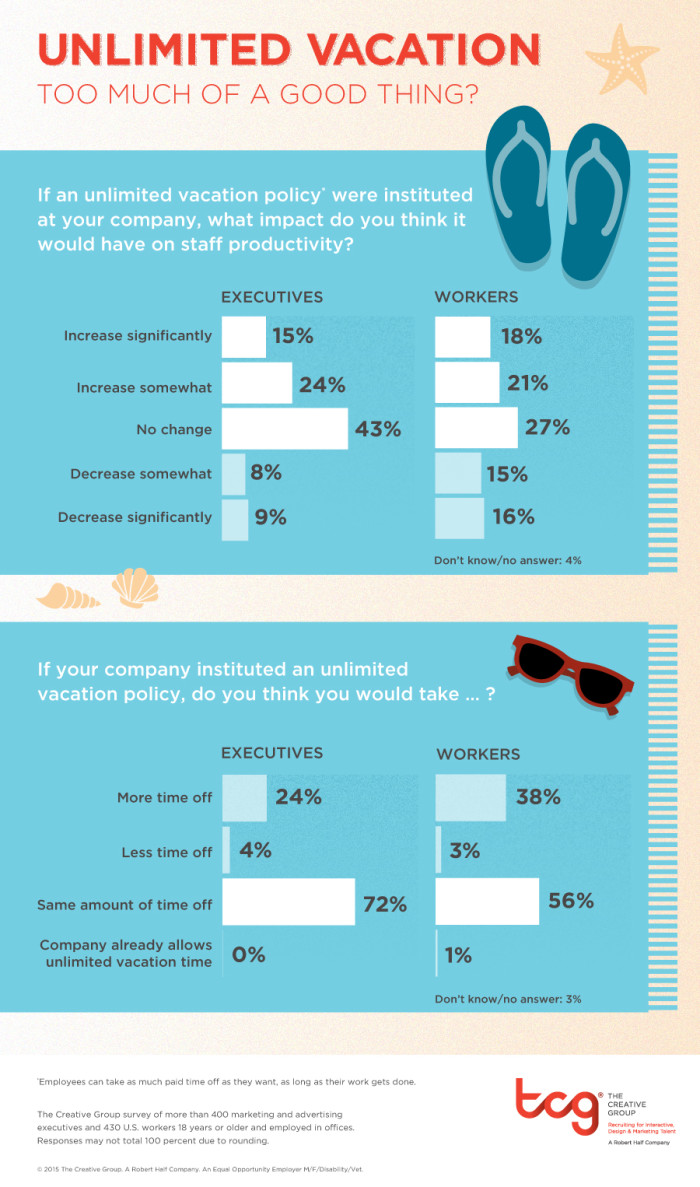 Image: Shutterstock