Singapore has been crowned the world's third most competitive nation by IMD, behind USA in first place and Switzerland in second, and just ahead of Hong Kong in fourth place.
The report cited the exports of smaller economies, such as Switzerland, Singapore and Hong Kong, business efficiency and innovation as big drivers behind their strong performance this year.
Aside from climbing two spots from last year, Singapore has another top honour to celebrate – the city came out on top when ranked according to countries' images abroad.
"While economic performance changes from year to year, perceptions are longer-term and shift more gradually. They can also lead to a virtuous circle of better image and better economic performance,"  Professor Arturo Bris, director of the IMD World Competitiveness Center, said.
"So how executives feel their country is being perceived is a potentially useful guide to future competitiveness developments there."
Overall, European countries fared better this year on the competitive rankings, with Switzerland, Sweden (5th), Germany (6th) and Denmark (9th) all making their way into the top 10.
Within Asia, Malaysia came in 12th this year, an improvement from last year's 15th place ranking, followed by Taiwan in 13th place.
Japan, China, South Korea and Thailand also made it into the top 30; with the exception of Japan, all the other countries slipped in their rankings this year.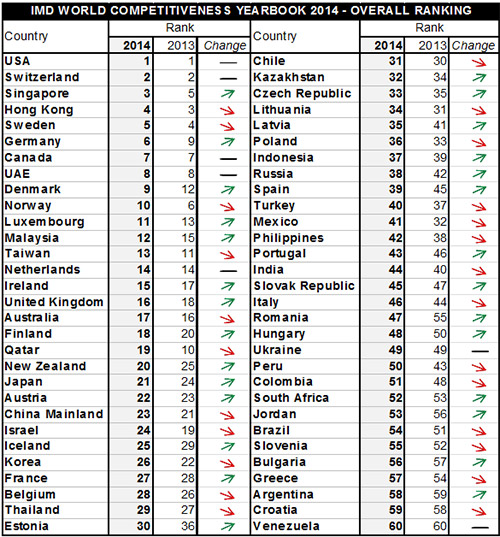 "There is no single recipe for a country to climb the competitiveness rankings, and much depends on the local context," Professor Bris said.
Image: Shutterstock