Mark your calendars as the crowd's favourite candidate and employee experience conference, Talent Experience Forum is back!
Happening only in KL, Malaysia on 5 November. Register your seat because you will be hearing top insights from C-suite and senior HR leaders from Dell, Digi, GoCar, IPG Mediabrands, Nestle, Tesco, Unilever and more.
Dealing with an "increasingly angry and disagreeable society" has taken its toll on Singa, the 30-year-old mascot of the Singapore Kindness Movement.
In his candid resignation letter, Singa said he is "too tired" to carry on pushing his campaign, hinting that Singaporeans may have become too self-involved and putting the onus on "real people" to carry on his message.
While we're sad to see Singa go, we do agree with him that kindness should be innate, and not the result of a nation-wide campaign.
Here's his resignation letter in full: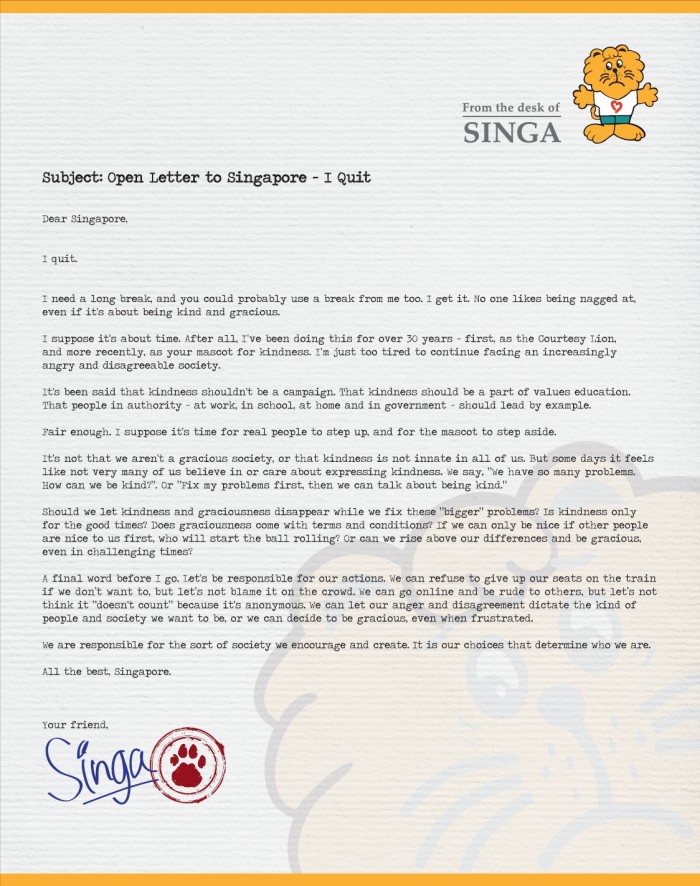 Uncover and learn about complex HR innovation tools and strategies at Accelerate HR from Thailand's largest employers including Agoda, DKSH, Fonterra, FWD, Kasikornbank, Minor Food, Nissan Motor and more.
Happening in Bangkok on 26-27 November, group discounts when you bring your team.