"The Asia Recruitment Award is the oscars of the recruitment industry. A display of the best of the best!"
Start your entries preparation early.
Open to both in-house recruitment & talent acquisition teams and recruitment solution providers.
Salary increases dipped in Singapore's private sector last year, with employees getting 4.9% in pay hikes, slightly lower than the 5.3% offered in 2013.
However, owing to easing inflation rates, real total wages rose at the rate of 3.9% in 2014, compared with 2.9% in 2013.
In real terms, the typical worker earned a median gross monthly income of $3,770, slightly more than the $3,705 in 2013.
These were among the key findings of the Ministry of Manpower's (MOM) Report on Wage Practices, 2014.
The implementation of the tripartite wage restructuring recommendations, released in January 2004, also led to a large majority (89%) of private sector employers introducing some form of flexible wage system in 2014 – the highest since June 2004.
The most common recommendation adopted was to have a narrow maximum-minimum salary ratio, adopted by two in three (66%) private sector employees working in such establishments.
This was followed by linking variable bonus to KPIs (52%) and having a monthly variable component (33%) in the wage structure.
ALSO READ: Singapore's salary and job trends for 2015
Overall, unemployment declined to just 1.8%, in a year that saw 60,700 more job openings than there were job seekers.
This was in spite of the increasing number of workers who re-entered employment within six months of being made redundant, at 59%.
The rate of voluntary employee turnover went down, at a 2% resignation rate, end of the year's last quarter. Employees also worked fewer hours at an annual average of 46 hours per week, slightly lower than the figure of 46.2 hours at the end of 2013.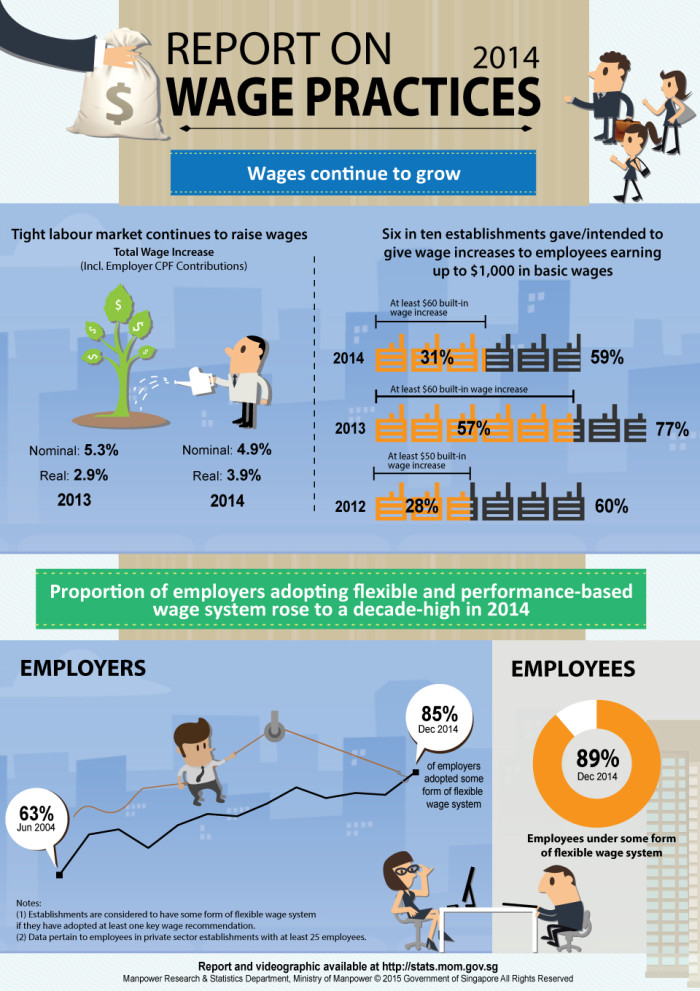 More than half of lower-paid workers (59%), earning a monthly basic salary of up to $1,000, received (or will receive) wage increases, lower than the 77% in 2013.
Among the remaining employers that did not grant wage increases, about half (20%) said they were already paying market rate, while others indicated that their business was not doing well.
The proportion of low-wage employees in the workforce has decreased from 9.8% in 2012 to 6.8% in 2014.
Lead image by Shutterstock and infographic by MOM