"The Asia Recruitment Award is the oscars of the recruitment industry. A display of the best of the best!"
Start your entries preparation early.
Open to both in-house recruitment & talent acquisition teams and recruitment solution providers.
If you want to strike a chord with your Millennial employees, try being ethical and transparent at all times.
Those were among the most desirable qualities in a boss identified by Millennials in IBM's latest report, which polled 1,784 employees from organisations across 12 countries.
More than one in three (35%) Millennials stated they wanted a manager who is fair and ethical, and also one who is transparent and readily shared information at all times.
Being dependant and consistent was the second most desirable quality ranked by 32% of Millennials.
While having strong moral standards was also the most wanted trait in a boss according to Baby Boomers (35%), employees belonging to Gen X stated they preferred a leader who defined goals and expectations clearly (42%).
Gen X employees were also likely to want a boss who provided pats on the back. Millennials, however, deemed it less important to have a boss who recognised their accomplishments and asked for their input.
READ MORE:
6 ways exercise makes you a better boss
Your quest for perfection is making you a lousy boss
5 tips to better manage Millennial managers
"Surprisingly, it's largely Gen X employees, not Millennials, who think everyone on a successful team should be rewarded," the report stated.
"Gen X employees are also more likely to believe collaboration and information sharing should be recognised."
It added the notion that Millennials expect to have every opportunity handed to them on a silver platter and endless praise for their achievements was also palpably false.
"They are no hungrier for accolades than Gen X employees. What they do desire is to be treated fairly."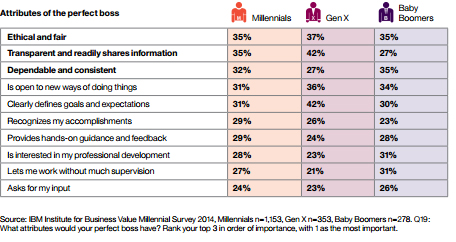 Image: Shutterstock