Nearly one in three (29%) of employees in Hong Kong and Singapore describe their company culture having "high levels of ambiguity" – i.e. decisions are made at short notice and respond to changing needs.
This research on company cultures and perceptions was conducted by Roffey Park, which interviewed more than 1,200 respondents from the two nations.
Moreover, only half of employees in Singapore (47%) and Hong Kong (52%) see the espoused values of their organisation lived out in practice by the management – a figure which rises to nearly two-thirds (63%) in China.
A senior manager in the retail industry told Roffey Park: "The values were not kept simple enough to reach out to all of us. There was no focus. It was overwhelming when it was first communicated, the language was not simple enough."
The main barriers to living company values? Close to half of employees in Hong Kong (49%) said they are unable to see the link between the values and the work they do.
Lack of ownership amongst employees, as values are imposed top-down was also a big issue, prevalent across Hong Kong (47%), Singapore (49%), and China (54%).
So what kind of culture are employees looking for? 35% of Hongkongers and 26% of Singapore want a "values'driven" organisation, where stated values are clear and drive decision making.
In China, however, one in three respondents (33%) is more keen on a fast-paced and dynamic culture in a structured way.
Across the three regions, respondents agree that such a culture will make them feel more safe and supported to provide ideas for innovation.
To what extent respondents feel supported to take business risks: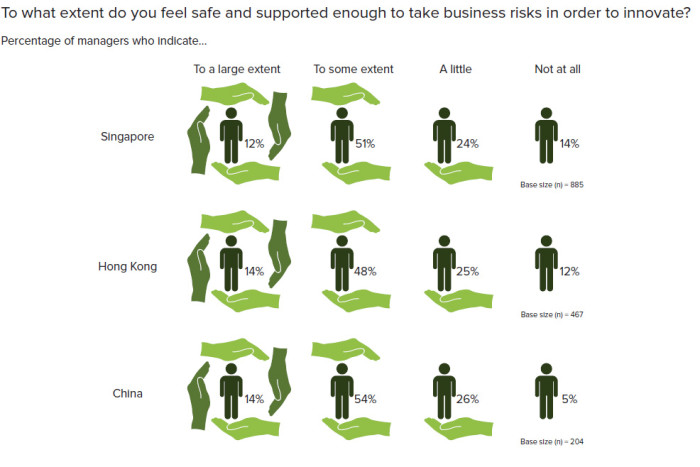 Roffey Park's research canvassed views of employers as well, wherein roughly one-quarter of managers, both HR and operational, in Hong Kong (28%) and Singapore (24%), regard the productivity of their workforce as "above average."
This percentage is higher in China, where more than one in three (36%) feel the same way.
What can be done to improve productivity further? Remove barriers such as excessive paperwork and administrative details, which 40% in Hong Kong say is hampering their productivity.
Biggest barriers to productivity in Hong Kong:
40% – Excessive paperwork and administrative details
39% – Bureaucracy and red-tape
38% – Organisational politics
Biggest barriers to productivity in Singapore:
44% – Organisational politics
40% – Long, unproductive meetings that do not achieve much
40% – Excessive paperwork and administrative details
Biggest barriers to productivity in China:
41% – Long, unproductive meetings that do not achieve much
39% – Organisational politics
34% – Inadequate communication between staff
Lead image: 123RF