Junior college and International Baccalaureate (IB) diploma graduates in Singapore have a better chance of receiving a bonded scholarship from aviation firms.
A survey of 2,914 potential scholarship recipients participated in JobCentral's BrightSparks Scholarship & Education Survey, which revealed the top five bonded scholarship providers in Singapore were the Public Service Commission, Changi Airport Group, Singapore Airlines, the Civil Aviation Authority of Singapore, and the Economic Development Board.
There was also a significant rise in popularity noted for healthcare and Singapore-industry scholarships. The MOH Holdings (MOHH) – which overseas six different healthcare clusters in Singapore – is now in the top 10 (9th place) of the scholarship providers' chart for the first time for all graduates. This is a large jump from their 40th placing in 2011 and 33rd placing in 2012.
"One sector that stands out is the aviation sector, which is very much a booming industry – considering the fact that Singapore has one of the busiest airports with a robust air cargo hub and also has a strategic location in relation to half of the global population in the Asia-Pacific region," Jessica Ang, director of marketing at the JobsCentral Group, said.
"In addition, career opportunities with aviation scholarship providers are also numerous and diverse."
The survey also identified the factors students deemed important in terms of scholarship applications. Career opportunities with the scholarship provider was the top factor, scoring 8.7 out of 10. This was followed by course of study (8.43), general economic outlook (7.43), destination of study (7.09) and ease of application process (6.46).
Two thirds of GCE 'A' level and IB diploma graduates also expect a starting salary of S$3,000 and above; this is twice the number of students than in 2009 (33.1%)
Additionally, GCE 'A' level and IB diploma graduates also revealed which industries they were most attracted to, compared to their polytechnic peers.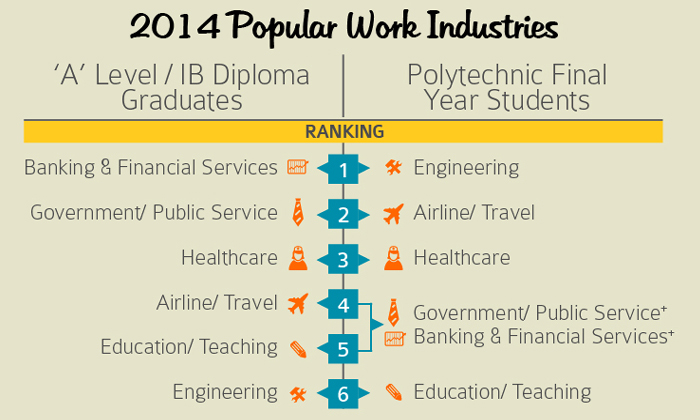 Source: JobsCentral
Image: Shutterstock