Our employees may dedicate many hours to the workplace, often through very little choice, and, for some, the thought of going to work on a Monday morning can be a daunting prospect.
Sadly, it doesn't stop there. According to new research by Benenden, employees' health is being drastically affected by their jobs, thus causing a drain on overall productivity.
Among the 2,000 UK-based employees surveyed by OnePoll, 87% blame their workplace for making them ill, with 91% admitting it is no surprise that they feel tired at work constantly.
In addition, half of those surveyed (50%) said they feel depressed at work, and another three in five said they are kept up at night owing to work-related worries (59%).
Apart from the impact on overall employee morale, employers have a range of specific health issues to work about, wherein close to half of employees still coming to work despite being sick (46%).
Worse still, whether ill or not, employees complain of experiencing a range of health issues at work:
Backache pain and posture issues (84%)
Eye strain (42%)
Regular migraines (27%).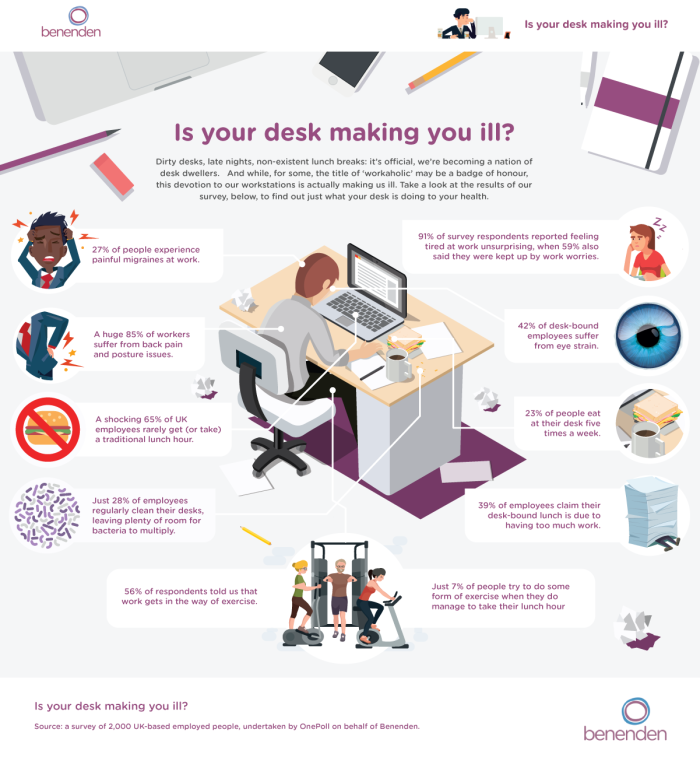 While this survey was conducted in the UK, the findings ring true for Malaysia, as one in three Malaysians are overweight owing to a majority of them leading largely sedentary lifestyles.
Herbalife's Nutrition At Work earlier this year found that 86% of Malaysian workers spend at least six hours a day sitting at their desk, and an equal number exercise less than three times a week. About 70% of workers get less than 30 minutes of physical activity a day at their workplace.
Furthermore, some of them don't even get away from their desks to get lunch – with five out of 10 workers admitting to eating lunch at their work desk.
Photo / 123RF