Asia's most renowned regional HR Excellence Awards is back in October in Singapore and Malaysia to sieve out HR's finest gems. Are you a diamond in the rough? View the categories and find out more.
With the workforce becoming increasingly diverse, there are bound to be conflicting beliefs among co-workers. All is well if these conflicts can be peacefully resolved between the employees in question.
Unfortunately, most of the time, managers have to get involved. According to a new survey from Accountemps, executives today are being sidetracked by peace negotiations among staff when that time could be better spent negotiating business deals.
CFOs spend, on average, 15% of their time — or six hours a week — managing staff conflicts, on par with similar studies conducted as far back as 1991.
"The more time managers spend reducing friction between coworkers, the less time they have for tackling business priorities," said Mike Steinitz, executive director of Accountemps.
"Company leaders should proactively look for ways to build rapport among colleagues to help curb issues before they arise."
Steinitz added, "It's unrealistic to expect workers to get along all the time. But not every issue needs to be escalated to management. Employees who can properly handle conflict with tact and diplomacy are in a better position to assume leadership roles in the future."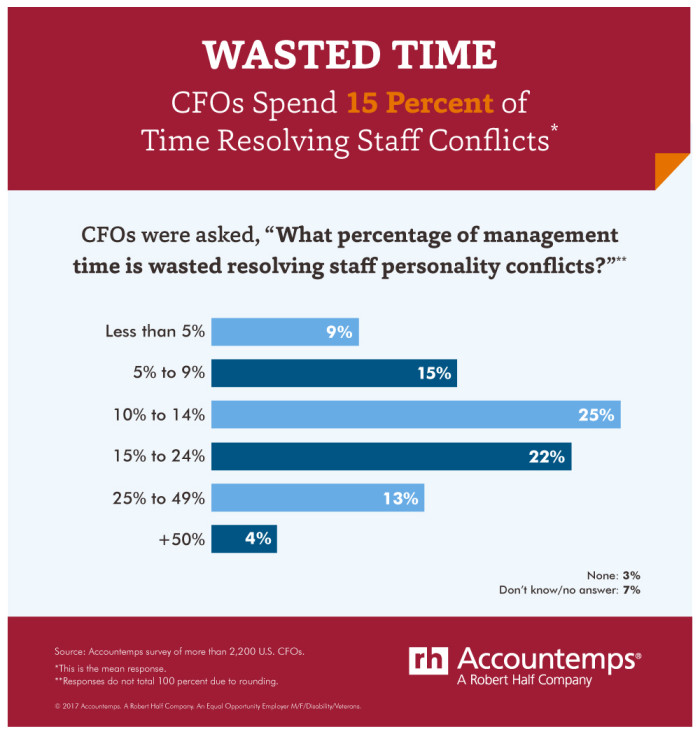 Photo / 123RF

Back in Hong Kong for its fourth year on September 5 at the Hotel ICON, Learning and Development Asia is bigger and better than ever before and earned its reputation as the most influential L&D strategy event in Asia.
Pre-order your tickets now!
Contact us now for an amazing group discount